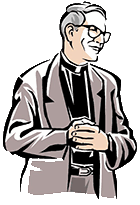 The Flame: September/October, 2008
Dear Readers of The Flame,
There is no such thing as a small choice." Chuck Colson said this during his five minute radio program called Breakpoint. Because I did not hear the beginning or end of the program, I do not know if these were Chuck Colson's words or those of C.S. Lewis. Mr. Colson was reviewing Lewis' book The Screwtape Letters.
However, this sentence has given me much to ponder. Often it is the small choices in life that make the biggest difference. Like the rudder on an aircraft carrier, seemingly small choices can redirect our lives in a big way. A few quick clicks with a mouse can lead one to a distorted view of human sexuality. An alcoholic who says to himself, "I'll have just one" can end up driving and causing untold sorrow. A gambling addict may simply decide to drive by the horseracing track only to come out hours later deeper in debt than ever.

A small choice is sometimes called a compromise. This word can be broken down into three Latin roots: com, meaning "mutual", pro meaning "for" and mise meaning "sent", as in a mission. . A promise literally means that we are for (onboard with, committed to) the mission (the given agenda or plan). A compromise indicates that we are mixing the agenda with our own agenda. This may be good in a business deal. Compromising so that all parties are justly compensated is a good thing.
However, with God there is not a compromise. He sets the agenda. It is the unfolding of His plan that leads to life. All of our choices are to be in line with the Lord.


Small choices can make a big difference for the good as well. The decision to pray every day, go to confession on a regular basis, look for opportunities to serve others, to approach mountain like problems with a mustard seed of faith: these small and hidden choices make a big difference for the good.

We charismatics are often tempted to think of the Holy Spirit only in terms of His dramatic manifestations: healing, prophesying, heroic courage in giving witness to Jesus Christ. Praise God for these awesome workings of the Lord. However, the Holy Spirit is there to empower us to make small and hidden choices of our daily lives. He gives us the wisdom, love, courage and strength to resist evil and do good in the seemingly insignificant choices we make each day.

Let us pray to be attentive to the Holy Spirit in these small areas of our lives. The Holy Spirit will lead us to the cross of Jesus Christ. "If we have died with him, we shall also live with him." (II Timothy 2:11) By our Spirit filled choices we will find true life.
Sincerely in Christ,

Fr. Bob Franco
PS: We have a special treat for our diocese next month. Jim Cowan, the former leader of the worship at the Steubenville conferences, will be touring in the Midwest and has agreed to play for our October charismatic mass. It will take place at St. Rita's in Solon. Jim and his family will be doing the music for a charismatic holy hour at 7:00 PM. Mass will follow at 8:00 PM. Please note the earlier start time. Come and bring a friend! This will be a time to truly encounter the Lord.