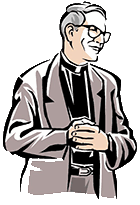 The Flame: September & October, 2007
Dear Readers of The Flame,
One of the things that attracted me to the Lord was charismatic worship. At the very first prayer meeting I attended I remember people singing and then verbally praising the Lord from their hearts with uninhibited love.

The psalmist says that the Lord inhabits (is enthroned) on the praises of his people (Psalm 22:3). This was my experience at that prayer meeting. The Lord was tangibly near when people gave him praise. This sort of shook me up. I was at once drawn to the Lord, yet reluctant to respond. I think my reluctance was mostly rooted in knowing that I would change if I responded. Needless to say, in time, I did respond. And now I am one of those people who love to sing the praises of the Lord.

As Catholic Christians one of the privileges we have is praising the Lord in Sprit and in truth. Jesus said:
But an hour is coming when true worshippers will worship the Father in Spirit and truth; and indeed the Father seeks such people to worship him. God is Spirit, and those who worship him must worship in Spirit and truth. (John 4:23-24)
The Holy Spirit empowers us to overcome the lethargy that weighs us down from fully praising the Lord. And the Holy Spirit also equips us to worship the Lord in truth.

Over the years, I have learned to praise and worship the Lord in all sorts of circumstances. Sometimes I am in a charismatic environment. I am singing and praising and worshiping the Lord with great freedom. At other times I am in a strictly liturgical environment. Here, I focus my mind and heart on the truth of what is going on. In the mass I join the liturgy of heaven through the celebration of the Eucharist, representing to the Father the sacrifice of the Son who brings life to the whole world. In the Liturgy of the Hours I join with the Church throughout the world, offering praise and intercession to Almighty God for the needs of the church and world.
The point is that we are to be a people who worship the Father in Spirit and truth. This cannot always be judged by how emotional the experience is. It is to be judge by how it lines up with the teachings of the scriptures and the Church throughout the ages.
Over the next few months Catholic Renewal Ministries will be sponsoring and publicizing events that will help us grow in worshiping the Father in Spirit and truth. At the beginning of September and the end of October, Mr. Bill Richart, a gifted charismatic worship leader and teacher will be visiting the diocese of Cleveland. His anointed gifts and talents will further empower all who participate to freely and fruitfully praise the Lord.
Finally, during the second weekend in November, the Healing Prayer Institute will be sponsoring a visit by Moira Noonan, a Catholic laywoman who was rescued from the false worship of the New Age movement. Her experiences highlight the need to always stay anchored in the authentic tradition of the Church and learn to "worship the Father in Spirit and truth". (John 4:24)
Sincerely in Christ,
Fr. Bob Franco

PS: Please see our upcoming events pages for news about visits from Bill Richart and Moira Noonan.
PS II: Traveling charismatic masses
-September 14 at St. Francis (E. 71st and Superior) at 7:30 PM
-October 26 at St. Thomas More (Brooklyn, OH) at 7:30 PM