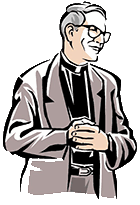 The Flame: September/October 2019
Dear Brothers and Sisters,
It has been a little less than two months since many of us participated in CRM's annual conference, this year entitled
Arise and Be Healed!
It was a wonderful time of worship, teaching and encountering the Lord Jesus in the power of the Holy Spirit. Many people met Jesus on a deeper level and many people were healed. I am grateful for our speakers, our volunteers and our conference committee for their labor of love in serving this conference.
These kinds of conferences put us in touch with the deeper reality that always surrounds us but is not as readily perceptible. There are two responses to these sorts of peak experiences. We can go looking for more and better religious experiences. Or we can file the "conference experience" in the "happy memory" bin in our brain along with Disneyworld and other vacations. Neither of these approaches is good.
Seeking religious experiences can lead us to desire the experience more than the Lord. Though the deeper reality always surrounds us, we walk by faith. We do not always have goosebumps. Seeking religious experiences could easily lead us to disappointments or worse. Religious experience seeking without discernment can lead to occult or toxic religious practices.
On the other hand, charismatic conferences and personal encounters with the Lord ought not to become happy memories without a connection to daily life.
Our goal is to become mature disciples of Jesus Christ.
These experiences are to be transformative that keep us walking by faith with the Lord, whether we are energized or a bit weary. We want to live for Christ the way he died for us, becoming a total gift of self to the Father.
A brother priest named Fr. Von DeRosia, includes three short quotes of St. Therese of Lisieux at the bottom of his emails. They read:
To ecstasy, I prefer the monotony of sacrifice. To remain little is to recognize our nothingness. Sacrifice is the food of love.
Very challenging words from a Doctor of the Church!
To prefer the monotony of sacrifice over ecstasy.
I think St. Therese was acutely aware that our love for the Lord is revealed through our day to day hidden service of God's people. Our sacrifices, hidden and unglamorous, mean more than our religious experiences. Our power encounters with the Lord ought to inspire us to be faithful to Him in both our public and hidden lives.
To remain little gives us a true perspective on life.
Whether we are unknown or well known to the world, before God, we are nothing. The amazing thing about life is that God so loved us that he gave his Son Jesus Christ for us! Taking on our "nothingness", he imbues us with a dignity beyond our reckoning. Apart from Christ we can do nothing (see John 15:5) but in Christ we can do all things! (see Philippians 4:13).
That sacrifice is the food of love
reminds us of how Jesus lived. His sacrifice is the full revelation of love, and in an amazing mystery, becomes our food every time we celebrate the Eucharist. By embracing the sacrifices of being a disciple, our love for the Lord grows stronger. Sacrifices willingly embraced nourish our relationship with Jesus.
St. Paul wrote to the Church at Colossae these words:
"…to whom God chose to make known the riches of the glory of this mystery among the Gentiles; it is Christ in you, the hope for glory. It is he whom we proclaim, admonishing everyone and teaching everyone with all wisdom, that we may present everyone perfect in Christ. For this I labor and struggle in accord with the exercise of his power working within me." (Colossians 1:27-29)
The word perfect in this context means mature or finished. It refers to the end product. This is our goal: to become mature in Jesus Christ.
Let us strive for this kind of maturity. By God's grace, we will be
transformed into that same image from glory to glory, as from the Lord who is the Spirit
. (II Corinthians 3:18). That image is Jesus Christ.
In Christ,
Fr. Bob Franco
In Christ,
Fr. Bob Franco
Bishop's Delegate to Catholic Renewal Ministries