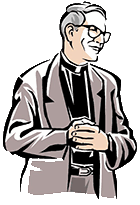 The Flame: September/October 2016
Dear Readers of The Flame,
I am grateful to the Lord for the blessings of our most recent conference, Proclaim God's Mercy. Better said, I am amazed and grateful to the Lord for July's conference. After many years of working with CRM and putting on conferences, I am still amazed at God's grace at work. Besides the edification I receive through the talks, fellowship and celebration of the sacraments, I am greatly encouraged by the people who witness to me of how God acted in their lives.

Near the end of the conference, a person came up to me to tell me how the Lord physically healed her. Another person shared with me a very beautiful testimony of how their relationship with the Lord changed after the conference. This person was already devout. However, since the conference she said, "My relationship is different with the Lord. I can speak with Him as my friend. I am closer to Him."

Finally, I received an email from a younger adult a week after the conference. He said:
It was on Saturday morning that I had an experience that I never thought was possible. As we were being led in praise and worship, I believe, I'm not for certain if I received the gift of tongues. It was a little strange to me, because as I was praising the Lord, suddenly, I could not get my own words out and I verbalized what I thought to be was gibberish. This is the first time this has ever happened to me!

Honestly, I used to think it was a little odd that a believer could receive this gift, but after it happened to me, I really wanted to know if this was legitimate. I did tell my wife about it, because even though it surprised me, I was provided with a tremendous sense of peace with Jesus, something that I have been seeking for some time.
Praise the Lord!


I experienced a special gift immediately after the conference. As some people know, I "rob Peter to pay Paul" before the conference. In other words, I take things from my parish (St. Peter's) to help out at the conference. One of the things I borrow from my parish is the monstrance the gold receptacle that holds the Eucharist during adoration of the Blessed Sacrament.

I brought the monstrance to Magnificat on Friday afternoon. On Saturday morning, when I brought the Eucharist, I unveiled the monstrance and noticed that one of the twelve amethyst jewels that surround the Eucharist in the monstrance was missing. It was lost. I checked the satin covering. I could not find it in my car. I looked in the parking lot. It was simply gone.

Adoration of the Blessed Sacrament took place throughout the day. That evening we had a period of public Adoration that included a procession with the Blessed Sacrament and Benediction. Everything went as planned, though I was concerned that the monstrance was missing a gem. I invoked the intercession of St. Anthony of Padua and recommenced my search as we packed up after the conference.

While putting things away at my parish later Saturday evening, I continued my search. I first looked on the shelf where we normally store the monstrance without success. I then glanced on the carpeted area just below the shelf. There, in the midst of a coiled extension cord, seemed to be a small rock-like thing. Sure enough, it was the missing amethyst. I was able to place the gem in its proper place and secured it by properly tightening the prongs that hold it in place.

I wondered about the value of amethysts. My short study turned up some interesting facts. They used to be regarded as quite precious. However, with discoveries of large quantities of amethyst crystals in the last hundred years in various places in the world their value is greatly lessened.

More interesting was where the name amethyst came from. It is a Greek word that means "not drunk." The Greeks believed that amethysts would keep people from becoming intoxicated.

One Church tradition was that a bishop's ring should contain an amethyst. Why? At Pentecost St. Peter proclaimed that "these men are not drunk as you suppose." (Acts 2:15) An amethyst stone in the ring of a bishop was a reminder that his joy, and the joy of his flock, comes not from physical inebriation, but from being filled with the Holy Spirit of Pentecost!

Let us seek to live each day in the power, presence and joy of the Holy Spirit of Pentecost!!!


Sincerely in Christ,
Fr. Bob Franco


Bishop's Delegate to Catholic Renewal Ministries