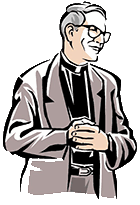 The Flame: September/October 2015
Dear Readers of The Flame,
All of us have experienced the power of a storm. I was recently speaking with a woman who was looking for a new patio table and umbrella. A quick moving storm blew over both the glass table and umbrella. The table was shattered and the umbrella ruined.

The key to surviving storms is preparation. Knowing the weather forecast helps. Reading the signs that the sky pro-vides ("red sky in morning, sailor take warning") also helps. Folding up the umbrella will protect it from being blown around. Anchoring the table will keep it stable in the midst of a storm. As the old saying goes, "An ounce of prevention is worth a pound of cure." (Benjamin Franklin)

The times we live in are spiritually very stormy. The existence of God, what we believe about God, the way of life the Lord teaches us, what we see as truly valuable: all of these things are being called into question. It seems that our culture has been yielded to demonic principalities and powers. Many people are spiritually adrift, not anchored to anything. Spiritually speaking they are, "…infants, tossed by waves and swept along by every wind of teaching arising from human trickery, from their cunning in the interests of deceitful scheming." (Ephesians 4:14)

How can we stay anchored amid this kind of storm? The umbrella and the table can give us some lessons. Umbrellas are made to protect people from rain or sun. However, if they are wide open in windy conditions they act like sails. Most umbrellas are vulnerable to wind.


Our minds are a bit like umbrellas. They need to be open to the truth to function in a proper manner. However, if they are open to influences that pollute or deceive, our minds will foster desires that pull us away from God. Sometimes we are called to answer deceit with the truth. At other times we must simply close ourselves off from error. The Psalmist says:
My life is always at risk, but I do not forget your law. The wicked have set snares for me, but from your precepts I do not stray. (Psalm 119:109-110)

We need to open our minds to the truth and resist the errors of our times. Studying the scriptures, the Catechism of the Catholic Church, using good media (we now have two Catholic radio stations that blanket much of our area as well as EWTN on TV, not to mention the many Catholic CDs and DVDs that are accessible) and books do much to "renew our minds" (Romans 12:2)

Perhaps we can compare our lives to a table. While we are at table we are nourished. Our bodies are fed with food and our souls with the relationships nurtured by good conversation. However, a table that is not anchored down and ex-posed to the elements can be overturned in a storm. Similarly, if we are not properly anchored in Christ and his teaching, our lives can be overturned. Instead of feeding on Christ we imbibe the swill of the world. Instead of nurturing relationships of charity and forgiveness, we choose selfishness and pride. Scripture says:
…hold fast to the hope that lies before us. This we have as an anchor of the soul, sure and firm, which reaches into the interior behind the veil, where Jesus has entered on our behalf, as forerunner, becoming high priest forever according to the order of Melchizedek. (Hebrews 6:18b-20)

Our hope is in Jesus Christ the anchor of our soul. By seeking to live his manner of life, as taught by the Catholic Church, we will have an unshakable kingdom. (Hebrews 12:26-29)
Though the mountains fall away and the hills be shaken, My love shall never fall away from you nor my covenant of peace be shaken, says the LORD, who has mercy on you. (Isaiah 54:10)

I am grateful for the over three hundred people that participated in this year's CRM conference. And whether you were part of this marvelously inspirational gathering, I encourage you to do whatever you need to do to stay anchored to Christ, open to the truth and resisting the errors of our times. If at all possible, make an effort to come to one of our monthly Masses or the mini-conference in October at Sacred Heart Parish in Oberlin with Chuck Hornsby. Oberlin is closer than you think.

Clinging to Jesus Christ we will weather all storms.

In Christ,
Fr. Bob Franco


Bishop's Delegate to Catholic Renewal Ministries