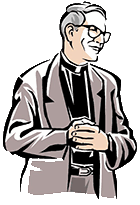 The Flame: September/October 2014
Dear Readers of The Flame, The Lord reigns. This is not a passive statement. We believe that God is active in the world, reaching out in power and love to make known his saving grace.

I write these words from the critical care unit at Southwest General Hospital. My mother, Dorothy, came here eleven days ago through the emergency room. After a number of diagnostic tests it was determined that she needed emergency abdominal surgery. The Lord reigns. There were a number of circumstances that highlighted God's providential care. First, my older sister was in town when this event took place. Her and her husband interrupted their multimonth long boat trip to participate in a grandchild's baptism in the Cleveland area the day that my mother was taken to the ER. Her presence has been a great comfort to my mother during this ordeal.

Another "Godincident" had to do with the surgeon. The ER nurse mentioned that the doctor who would be performing the surgery was Dr. Craig Eyman. The name immediately rang a bell. For many years a member of the Cleveland expression of Fraternity of Priests had been Byzantine priest named Fr. Bryan Eyman. He is currently serving a parish in Indianapolis, Indiana. So I gave Fr. Bryan a call and discovered that Dr. Craig Eyman is his brother. The Lord reigns. And yet sometimes it is harder to see the hand of the Lord at work. In the eleven days that have transpired since my mother's surgery, we have had moments of great hope and other moments of desolation. Though the surgery was a success, the after effects to my 87 year mother have been debilitating. Her lungs and heart have not recovered in the same way as her abdomen. She has not been able to be weaned from the machines that assist her breathing. She will be going into hospice this week and preparing for a happy death.


Ultimately, we believe that Jesus is Lord of the living and the dead (Romans 14:9). The manner of our death and its day is not of our choosing. How we live using the time we are givenherein lays the choices that make all the difference in the world. Let us pray to make good choices!

May our first choice always be faith! "And without faith, it is impossible to please him, for he who comes to God must believe that he is and that he is a rewarder of those who seek him." (Hebrews 11:6) In our skeptical age, may we gratefully live for Jesus Christ as proclaimed by the Church.

And let us choose to hope in Christ. So many of our hopes are "earthbased". They are fleeting, meaningless and sometimes detrimental to the unfading promise of heaven. (I Peter 1:4) Jesus promised to prepare a place and that he will come and take us to himself (John 14:16). Let us never let go of our true hope! Finally, let us choose to love. This is the command of the Lord (John 13:34-35) It means serving those who are part of the fabric of our lives, expressing our gratitude to and for them, forgiving any and all who have hurt or offended us in anyway and praying for God's blessings to be upon them.

May we never forget that the Lord truly does reign. I pray that we all have eyes to see his providential hand at work in our lives. I pray especially that in those dark moments we may actively:
reaffirm our faith in the mercy and promises of Christ
reaffirm our hope in the heaven he promises
reaffirm our love for each other
In this way, we will come to know that God really does reign. Thy Kingdom Come!

In Christ,
Fr. Bob Franco