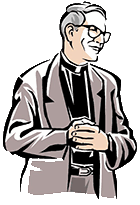 The Flame: Sept/Oct 2013
Dear Readers of The Flame,
Most of us have perfected the art of forgetting. I suppose we can say, "It comes with age." And it certainly does! However, apart from the aging mind, we have a way of forgetting God at the most inopportune times. We often think of the devil putting evil and suspicious thoughts into our minds to try to sour our relationships. And the enemy does use this tactic. However, C.S. Lewis said that the devil often tries to keep us from remembering the truth more than planting the lie.

In one of the most famous passages on discipleship, St. Paul instructs us:
I urge you therefore, brothers, by the mercies of God, to offer your bodies as a living sacrifice, holy and pleasing to God, your spiritual worship. Do not conform yourself to this age but be transformed by the renewal of your mind, that you may discern what is the will of God, what is good and pleasing and perfect. (Romans 12:1-2)
We begin by offering our bodies to God. In a phrase worth meditating on, we are to become "living sacrifices." The Old Covenant sacrifices were mostly dead animals. However, we are to become living sacrifices. This means that we make those painful choices of saying "No!" to ourselves in order to follow the way of the Lord.


The second part of St. Paul's passage focuses on the mind. If we take in the messages of this age, we will become conformed to this age. The Amplified Bible translates this phrase as "being squeezed into the mold" of this world. However, when our minds are renewed by embracing the truth that comes from Jesus Christ, we are transformed, meaning we are changed from within.

In one of his homilies at a Confirmation, Bishop Quinn described the difference between a thermometer and a thermostat. The thermometer conforms itself to the temperature and tells us what it is. A thermostat actually sets the temperature.

If we are a thermometer, we are being conformed to the environment around us. The Holy Spirit wants to make us into thermostats. We are not to simply conform to the spirit of this age. By the Spirit's power we become agents of change, influencing the people around us by, being transformed into his likeness. Brother Lawrence of the Resurrection (1605-1691) was a Carmelite Monk in France. As an illiterate layman, Brother Lawrence worked in the kitchen of the monastery, shopped for the brothers and repaired sandals. Due to the nature of his service he did not have as much time for personal prayers as did the other members of the monastery. However, he worked at staying in touch with God. He writes,
"The time of business does not with me differ from the time of prayer; and in the noise and clatter of my kitchen, while several persons are at the same time calling for different things, I possess God in as great tranquility as if I were upon my knees before the Blessed Sacrament."
Brother Lawrence is credited with the book Practice of the Presence of God, which speaks of being aware of and connecting to God amid the business of this world.

The Psalmist writes, "Do not forget the works of the Lord." (Psalm 78) Let us ask the Holy Spirit, the One who reminds us of all that Lord has done for us (John 16) to help us always be mindful of the Lord. With desires under His Lordship, with speech governed by his wisdom, we will become His disciples in fact and not merely in name.

Sincerely in Christ,

Fr. Bob Franco