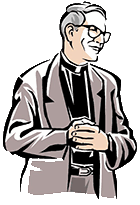 The Flame: November/December 2011
Dear Readers of The Flame,
Christmas! There-I said it. I am not trying to compete with retailers by having you purchase early and often. However, due to publication restraints, this is my opportunity to reflect on this most special feast of our faith. Christmas is the celebration of the Blessed Virgin Mary giving birth to Jesus Christ, the Son of God, the Word made Flesh. The consequences of this event are enormous and manifold.

Here are some of those consequences:
The fact that God became man in Jesus Christ has raised our humanity to dignity greater than when God made human beings in his own image and likeness. As the author to the Letter to the Hebrews said, "Surely he did not help angels but rather the descendents of Abraham;" (Hebrews 2:16) God did not come to the rescue of angels after their fall. However, God did come to save human beings by becoming a man.

St. Leo put it this way:
Christian, remember your dignity, and now that you share in God's own nature, do not return by sin to your former base condition. Bear in mind who is your head and of whose body you are a member. (From a sermon by St. Leo the Great, Liturgy of the Hours, Volume 1, pg. 405)


It is because of the Incarnation that we will be seated with Christ at the right hand of God the Father. (Revelation 3:21) St. Paul tells us that "if we persevere, we shall also reign with him." (II Timothy 2:12a). Because God the Son became man in Christ we will judge angels (I Corinthians 6:3a). The ramifications of the Incarnation are mind boggling!

It is because of the Incarnation that the Catholic Church roots its convictions regarding the Sacraments and the Church. God came to save us by becoming a man. And this man, Jesus Christ commanded us to baptize in the name of the Father and of the Son and of the Holy Spirit. This pouring of water and invoking of the Trinity is not just a nice gesture. It is the normal vehicle chosen by God through which he gives us a new life in the Spirit, with all our sins forgiven. Jesus, taking bread and wine, commanded us to, "Take and eat…this is My Body…take and drink…this is My blood." This is no sentimental remembering of Jesus' tragic death. This is the fullest manner by which Jesus Christ has chosen to remain with us always (Matthew 28:20), nourishing us with Himself (John 6:51-58), uniting us as his Body (I Corinthians 10:17).

It is because of the Incarnation that we are a Church that can speak with authority. Though the Church is always in need of purification (Lumen Gentium # 8), it can speak with authority because, as Jesus said, "Whoever listens to you, listens to me…" (Luke 10:16a). Because God became man in Jesus Christ, the Church becomes the hands and feet of Jesus in the world today, and so extends the mission of the Lord. "As the Father has sent me, so I send you…" (John 20:21b) As we approach the celebration of Christmas, let us take some time to ponder the wonder of the Incarnation. Emmanuel, God with us, is our hope in our darkest moments, our lasting joy in our fleeting successes, our true humility in the face of temptation.

Come Holy Spirit! Enlighten our minds this Christmas season!
Sincerely in Christ,

Fr. Bob Franco
PS: I sincerely wish you and your loved ones a wonder-filled Christmas Season and a happy and holy New Year.