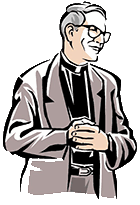 The Flame: November/December 2009
Dear Readers of The Flame,
Gary Player is a professional golfer who has won tournaments around the world. Like any professional golfer he has had his share of remarkable and amazing golf shots. After hitting one such shot, one of the spectators said to him, "That was lucky." Gary Player replied, "What I've discovered is that the more I practice, the luckier I get."
I would like to take Gary Player's connection between practice and "luck" and translate it into a spiritual adage. Perhaps we can say it this way: The more I pray, the more blessed I am.
I believe that when we connect with God in prayer and then seek to live our faith, good things, even remarkable things, happen. Now prayer is not magic. And people who pray are not exempt from trials. As St. Paul said in II Timothy 3:12, "…all who want to live religiously in Christ Jesus will be persecuted."
However, praying opens us up to God's gifts. Sometimes those gifts come in form of "coincidences". Other times God's graces will be seen in answered prayers. And still other times, our eyes will be opened to see the gifts from the Lord that others seem blind to. The more we pray, the more blessed we are.
We recently began a Welcome Team at my parish. Our goal is to welcome those newly moved into our city by knocking on their doors around midday on a Saturday and giving them some information about our parish and school. Armed with prayer and the faith that gave us the courage to knock on doors, we began to welcome the new move residents of North Ridgeville. On our very first visit, a woman answered the door that looked familiar to me. As we chatted, she reminded me that I had married her and her spouse while at my former assignment! "In fact," she remarked, "I met you at the parish that you were at before that! You're following me!" I had met Amy while at St. William's in Euclid. A year after I had moved thirty miles away, Amy moved near St. Teresa Parish to be closer to her fiancé. We did not stay in touch after I witnessed her marriage. However, now years later I ran into her again, this time in North Ridgeville. Coincidence? God-incident!
As we approach the upcoming holidays, I encourage you to pray. Stressful and distracting times demand that we stay deeply in touch with the Lord Jesus. We are "…to pray always without becoming weary." (Luke 18:1) We are to "persevere in prayer, being watchful in it with thanksgiving." (Colossians 4:2) The more we pray, the more blessed we are.
Due to calendar constraints, let me be the first to wish you and your loved ones a wonderful Thanksgiving and joy-filled Christmas. Because the Word became Flesh in Jesus Christ, we can "confidently approach the throne of grace." (Hebrews 4:16). Let us pray for one another this holiday season..
Sincerely in Christ,

Fr. Bob Franco
PS: Please note the upcoming the upcoming events with Mr. Bill Richart, a worship leader and more, from Michigan as well as Jim Cowan, who will be leading the music at the charismatic mass in November at Holy Family in Stow, Ohio.