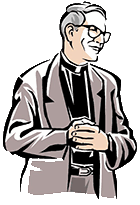 The Flame: November/December, 2008
Dear Readers of The Flame,
On the weekend of October 4 and 5, these words were proclaimed in all the Catholic Churches throughout the world:
Have no anxiety at all, but in everything, by prayer and petition, with thanksgiving, make your requests known to God. Then the peace of God that surpasses all understanding will guard your hearts and minds in Christ Jesus. (Philippians 4:6-7)
In these uncertain times, this promise is reassuring. It is easy for our minds to be gripped by anxiety. Problems regarding the economy, terrorism, politics, and the job market are overwhelming. Even if we are not impacted on a personal level, we may still be tempted to be anxious about these things.
The key is prayer. Grateful and trusting prayer puts the things we are powerless to control in the hands of the Almighty God. It is interesting to note that St. Paul makes no promise on how our prayers will be answered. He does say that the peace of God will guard our hearts and minds from anxiety.
I recently visited a fifth grade PSR class. They were learning how to look up things in the bible, connecting the book name, chapter and verse to find a passage. I bring my guitar when I visit and try to find a song that will match their lesson. That evening I tried to teach the class, "Seek Ye First", which is Matthew 6:33, "But seek first his kingdom and his righteousness and all these things will be given you besides." I commented on the meaning of the teaching of Jesus at the end of Matthew 6. If we seek the Lord, he will give us what we need. If we seek all sorts of things, we will be constantly worried.
One fifth grader seemed agitated. Perhaps he had heard his parents lamenting the state of the economy or their personal finances. Again, I tried to assure them that God will provide. He wants to remind us that the most important things in life are not things. If we seek first His kingdom, the the Lord will give us what we need (not always what we want), and His peace besides.
These uncertain times are a call from the Lord to seek Him. As we sense our vulnerability, let us rely on His promises. God the Son became Emmanuel, God with us, in the person of Jesus Christ. He is well acquainted with ups and downs of life on earth. And He promises, "I will never forsake you or abandon you." (Hebrews 13:5b) As we enter the seasons of Thanksgiving, Advent and Christmas, let us recognize ever more deeply that all our hopes are in Jesus Christ. His promises are certain! Come, Lord Jesus!
Finally, I want to wish a Thanksgiving filled with gratitude and Christmas holiday brimming over with peace. May you and all of your loved ones recognize the nearness of the Lord.
Sincerely in Christ,

Fr. Bob Franco
PS: Our upcoming charismatic mass is at St. Edward's parish in Ashland on Friday, November 21 at 7:00 PM. Some people have asked me, "Is that in our diocese?" Trust me, it is. From west to east and north to south the Diocese of Cleveland takes in Lorain, Cuyahoga, Lake, Medina, Summit, Geauga, Ashland and Wayne Counties. If you would like a charismatic mass in your parish in 2009, please do not hesitate to call me at 440-934-4227.