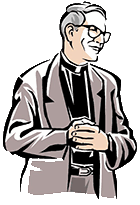 The Flame: November & December,
2007 Dear Readers of The Flame,
It was during my first years in the Catholic charismatic renewal that I met my neighbor who lived across the street from my parents. Somehow our conversation wandered into the area of religion. I learned that he was a Pentecostal and he learned that I was a Catholic charismatic.
He shared with me that he attended a Catholic charismatic prayer meeting. He said that it seemed to him "like the early church all over again." I wondered what he meant by that. Did this prayer group manifest miraculous signs or dramatically heal the sick? So I asked, "What do you mean?" He said, almost wistfully, "Well, the people at that meeting really loved one another."
This neighbor was echoing the Christian apologist Tertullian. In the second century he quoted the unbelievers of his day who looked at the Christian community and said, "See how they love one another." Apparently the early Christians treated each other with such a love and respect that it was noticeable to the unbelieving world around them.
Apparently, charismatic prayer meetings in the early days of the renewal had this quality. The Holy Spirit, overriding the sinful prejudices and biases of the early charismatics, empowered them to love others in self-forgetful and compassionate manner.
However, things change. Now, with the neighbor across the street, I look back wistfully and think that we really loved one another back then. In time, the Holy Spirit, seeking to bring us to maturity, has allowed us to see our sinfulness and inability to love deeply without His grace. Over the years, individuals and groups have often wrestled with the judgmental attitudes, prejudices from the past, intolerance of people who "hurt" them, and so on. "See how they love one another" is not always said about the charismatic prayer groups today.
So what do we do? We need to hear afresh the Lord's command, "Love one another as I have loved you." (John 13:33). As we confess our halfhearted obedience to this command, we need to ask for God's grace, that we might fulfill it in a more complete manner. We need to heed again these words of St. Paul:
"Put on then, as God's chosen ones, holy and beloved, heartfelt compassion, kindness, humility, gentleness, and patience, bearing with one another and forgiving one another." (Colossians 3:12-13a)
The Lord's words to the church in Ephesus in the book of Revelation apply. "Yet I hold this against you: you have lost the love you had at first." (Revelation 2:4) We often interpret this text as referring to a weak love of the Lord. However, scholars will tell us that it refers to the love that the community use to have for each other. That love has grown cold.
As we enter the upcoming seasons of Thanksgiving and Christmas, let us remember that the Son of God was born into a world that was rebelling against him. At the end of his earthly journey he was surrounded by an angry mob that rejected him, while most of his friends deserted him. Throughout all of this, Jesus continued to love and forgive. May He be our model!
I wish you all a happy and holy celebration of these upcoming holy days. May the coming of God's love made flesh in the womb of the Blessed Virgin Mary, fill your hearts with love and lead us all to bring the world to marvel again, "See how they love one another."
Sincerely in Christ,
Fr. Bob Franco

PS: THANKS FOR ALL YOU DO FOR CRM THROUGHOUT THE WORLD! YOUR PRAYERS AND SACRIFICES ARE TRULY APPRECIATED!
PS II: Traveling charismatic mass: November 30th at 7:30 PM at St. William Parish in Euclid.
PS III: If your prayer group or parish is interested in sponsoring a traveling charismatic mass, please call me at 440-944-9445 or 440-934-4227.