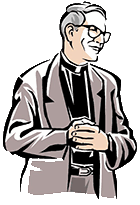 The Flame: November-December 2020
Dear Brothers and Sisters,
One of the articles of faith we profess in the Creed is the return of Jesus Christ.
"…He will come again to judge the living and the dead." This statement sums up a substantial amount of teaching in the New Testament. And from the time that Jesus and the Apostles spoke about His return, it has led to much speculation as to when it will take place.
Though Jesus said, "But of that day or hour, no one knows"
(Mark 13:32a), St. John boldly declared, "Children, it is the last hour…" (I John 2:28a). The Sacred Scriptures give us signs that can be witnessed in just about any age of the Church. However, that certainly does not mean that we are to be casual about the return of the Lord. St. Peter addressed the skeptics of his day:
Know this first of all, that in the last days scoffers will come to scoff, living according to their own desires and saying, "Where is the promise of his coming? From the time when our ancestors fell asleep, everything has remained as it was in the beginning of creation." (II Peter 3:3-4)
St. Peter then speaks of the Lord's faithfulness and patience:
But do not ignore this one fact, beloved, that with the Lord one day is like a thousand years and a thousand years like one day. The Lord does not delay his promise, as some regard "delay," but he is patient with you, not wishing that any should perish but that all should come to repentance. But the day of the Lord will come like a thief, and then the heavens will pass away with a mighty roar and the elements will be dissolved by fire, and the earth and everything done on it will be found out.

The Mass readings at the end and beginning of the Church year (consummating with Christ the King and beginning with the First Sunday of Advent) highlight the return of the Lord and our need to be ready for judgement. These sober words are not to instill fear or idle speculation.
They are to propel us out of any spiritual lethargy we may be experiencing and move us to greater holiness and zeal for souls.

I am writing this letter in the third week of October.
Coronavirus seems to be surging. Wildfires in California have burned about 4% of State's total acreage. Storms and hurricanes have battered Texas and Louisiana.
Amid these natural disasters, we are on the cusp of a national election.
There is great divisiveness in this election and things seem more fragmented than ever in our day. With much of our Judeo-Christian values washed out of our culture, it seems we have less of a starting point to dialogue. Also adding to the problem is that in our day many people have taken their eyes off God and expect the government to solve all their problems.
So what is all this leading to?
Are We Living in Apocalyptic Times?
is an article based on a talk by Michael D. O'Brien that he gave at St. Patrick's Cathedral in Ottawa, Canada on September 20, 2005 (found at www.catholicculture.org). He is the author of Father Elijah and other popular Catholic fiction works. In this particular talk Michael O'Brien cites some of the most influential Catholic thinkers of the 20th Century: Etienne Gilson, Joseph Pieper and Christopher Dawson. The first two are philosophers. The latter is a historian. All three sensed that the eroding of Christian culture and the ascendency of science and social science. This combination would lead to a culture in which democracy and freedom would "be the theme of every broadcast and editorial," but "the underlying substance will be a new kind of totalitarianism, almost impossible to throw off, because it can always cite what appear to be valid arguments is leading to prove that it is not in fact what it is." Seventy years after these Catholic thinkers articulated these similar thoughts, it seems we are getting to that place they spoke of. (Michael O'Brien has also written a non-fiction book entitled The Apocalypse: Warning, Hope and Consolation that addresses these issues. I have ordered it. Perhaps I will review it in the future.)
The Church has lived through many harrowing times. And perhaps we at the beginning of some of its most difficult times.
How should we live?
I am paraphrasing Dr. David Anders from his Call to Communion radio program on EWTN radio.
He noted that St. Augustine lived in apocalyptic times. Rome had been sacked by pagan tribes and culture was imploding.
However, St. Augustine did not tell everyone that the world was coming to an end. He instead encouraged people to live their faith fully in hope of the return of the Lord. An internet article on Eschatology at
www.britannica.com
summarized his approach:
According to this Augustinian approach, we must be prepared at all times, but we must not abandon our daily tasks. As both Jewish and Christian antiapocalyptic lore holds: "If word comes that the Messiah has arrived, go on planting trees."
Faithfulness to the Lord, hope in his coming, love of our brothers and sisters in Christ, do
ing corporal and spiritual works of mercy: these things we must never abandon.
When our earthly future is uncertain
(which, in reality, it always is), let us look to Jesus Christ. St. Paul exhorted Timothy with these words:
This saying is trustworthy: If we have died with him we shall also live with him; if we persevere we shall also reign with him. But if we deny him, he will deny us. If we are unfaithful he remains faithful, for he cannot deny himself. (2 Timothy 2:11-13)
May the Lord be with you and your loved ones as we approach the coming holidays
of Thanksgiving and the Nativity of our Lord. Though our world is fraught with difficulties, we have much to be grateful for. Jesus Christ, the Son of God, our true and lasting hope, has been born on this earth. Glory to God in the highest!
In Christ,
Fr. Bob Franco
Bishop's Delegate to Catholic Renewal Ministries


PS: Our next charismatic Mass (with social distancing and masks) will be at St. Peter Parish in North Ridgeville on Friday, January 15 at 7:00 PM.