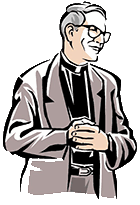 The Flame: November-December 2019
Dear Brothers and Sisters,
This is the refrain of the Quaker hymn, attributed to Robert Lowry,
How Can I Keep From Singing:
No storm can shake my inmost calm, while to that rock I'm clinging Since Love is Lord of heaven and earth, how can I keep from singing?
I believe these words contain what it means to have a contemplative heart. Our world seems to be an increasingly stormy place. There are a variety of geopolitical situations on earth that can lead us to be both fearful and discouraged. The media seems to feed divisiveness and hate. The Church is still wrestling with the sexual abuse scandal. Most of us have family members who have abandoned the faith. And there are genuine weather systems that devastate parts of our world. Life on earth can be stormy.
Can we have an inmost calm amid all these tensions in life? I believe we can. The key is learning to pray.
My spiritual director recently gave me a book by Fr. Jean Lefrance entitled
Give Peace to My Soul
. The subtitle describes what the book is about:
Discover St. Elizabeth of the Trinity's Secret of Prayer.
At the time of this writing, I cannot give a full book review. However, the portion of the book I have read synthesizes St. Elizabeth of the Trinity's spirituality. Similar to St. Therese of Lisieux, St. Elizabeth was a Carmelite nun from France who died in 1906 at the age of 26. She was beatified by St. John Paul II in 1984 and canonized by Pope Francis in 2016.
The key to St. Elizabeth's teachings about prayer is found in her name. At the age of 11 she was given a profound awareness of the Holy Trinity dwelling within her inmost self. What St. Elizabeth experienced was simply what Jesus promises:
I will ask the Father and he will give you another Counselor, to be with you forever, even the Spirit of Truth…you know him, for he dwells with you, and will be in you…If a man loves me, he will keep my word, and my Father will love him, and we will come to him and make our home with him. (parts of John 14:16-17, 23 Revised Standard Version)
Each baptized Christian is the home of God-Father, Son and Holy Spirit. However, so few of us deeply connect with the Living God abiding in us.
How can we do that? One of the key elements is silence. Of the many and good ways to pray, being silent before the Lord is perhaps the hardest to master. Daily I pray the Liturgy of the Hours (which I am obliged to do accepting Holy Orders), the Rosary and the Chaplet of Divine Mercy. I also read Sacred Scripture around 20 minutes a day. By these prayers I praise God, intercede for the world and feed my soul in many ways. However, silence connects me to the Father who speaks only one Word from all eternity, and immerses me in love between the Father and the Son: the Holy Spirit.
I find it hard to be silent before the Lord. My mind seems to fill up with the details and loose ends that make up my life as a pastor. One by one I lay them aside, sometimes writing them on paper. (Once it's on paper it stays out of my mind easier.) Then I simply try to be with the Lord. Amid the cacophony of this world, the Lord is the Rock I want to cling to. He is, as St. John reminds us, Love. (I John 4:16)
I have sometimes experienced this God-filled silence during charismatic prayer times. I have been at prayer meetings and conferences where loud praise and singing in tongues suddenly yields to a profound corporate silence. This silence is sometimes punctuated by a word of prophecy or revelation. However, sometimes there is simply a wonderful sense of Godfilled silence.
As we approach the holiday season, let us make time for silent prayer. Amid the very real stresses of planet earth and the busyness of our lives, we want to abide in Jesus Christ, the Eternal Word made Flesh, who shows us the Father and gives us the Holy Spirit. In this way, God will be made evident by the growing inmost calm, also known as peace, we display as we go about our daily duties.
In Christ,
Fr. Bob Franco
Bishop's Delegate to Catholic Renewal Ministries