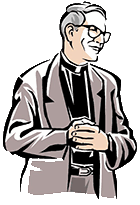 The Flame: November/December 2014
Dear Readers of The Flame, My best read of 2014 was the book Forming Intentional Disciples by Sherry Weddell. The title may be a bit misleading. One might think that this is a "How To" manual for making disciples. Though some of those elements are in there, it is best to think of the title as a vision of Church. In carrying out the Great Commission (Matthew 28:18-20), it is our goal to make disciples. This intention ought to direct our pastoral practices.

Sherry Weddell began this book by synthesizing the statistics that chronicle Catholic and Christian belief and practice. Though this sounds quite dry, it really gives the reader a rather frightening picture of the Church in North America and Europe. Though around 25-30% of Catholics still attend Mass on a regular basis, the majority of them are older. Catholics from age 10 through 46 attend Mass at rates from 10 to 13 %. At one point Sherry Weddell said that if we do not really begin to effectively implement the new evangelization, the vocation crisis will be a moot point. There will not be that many Catholics to pastor.

One interesting thing that the book does is outline the steps one takes on the way to becoming a committed disciple of Jesus Christ. Based on a study from the book I Once Was Lost (Everts & Schaupp, Downers Grove, IL, IVP 2008), Sherry Weddell described five stages through which one normally passes in becoming a committed disciple of the Lord. Briefly they are:

Trust: This does not mean trust in God. It is the kind of trust that one might have in a friend or even a good institution like the Church. It is the kind of trust on a human level that is the opposite of suspicion. Curiosity: This is the stage when one might be curious about the faith and things Christian. Something in them is drawing them to wonder about Jesus, God, what makes committed disciples do what they do. Openness: This is the stage when a person begins to think, "I am open to change. I could believe and live my life differently." Seeking: At this stage a person begins to seriously seek out what it means to be a disciple. Sherry Weddell describes this as 'dating with a purpose.' The person wants to see the real Jesus and perhaps take the plunge (figuratively, they are already baptized; literally, if they have not been baptized.) Committed discipleship: This is the goal. It is here that a person has knowingly surrendered to Jesus Christ and is lining their life up with His manner of life, seeking the Lord in prayer and serving in His name.

Sherry Weddell's book Forming Intentional Disciples put into words much of the intuitions I had regarding what I am supposed to be about. Simply put, my job is to form intentional disciples. These are people who do not drift into Christianity. They are not simply cultural Catholics. (There are not too many of these left. The secular culture has swept many of them away.) I am to be about forming people who knowingly and decisively follow Jesus.

For Catholic charismatics, this book puts into words much of our experience. The Lord has brought us through these stages of trusting, curiosity, openness, seeking and committing to Jesus. The book is also helpful in identifying where people are at and helping them move one step closer to discipleship.

As we approach the holidays I encourage you to keep these steps in mind. This is the time of year when we see our relatives and friends. Sometimes these meetings can be a bit strained. We would like to see them become committed disciples. They would like to see us less religious! How do we approach these situations?

Perhaps we can prayerfully discern what stage they are at regarding discipleship. Do they have a basic trust in you? If not, lovingly try to foster a relationship that makes them realize that you are basically good and caring. If they trust you "Conduct yourselves wisely toward outsiders, making the most of the opportunity. Let your speech always be gracious, seasoned with salt, so that you know how you should respond to each one." (Colossians 4:5-6). Try to make them curious about your faith. Do they seem curious? Foster openness in them. I think you get the picture. Try to move them one stage further through the stages of conversion. And, of course, pray that God draw them to Jesus as He guides you in serving them.

I pray that your celebration of Thanksgiving and Christmas be filled with the light that Jesus Christ, our true Savior and only Hope brings into our world.

In Christ,
Fr. Bob Franco

PS: Fr. Bill Halbing, one of our conference speakers from 2013, will be in town on November 14-15, for a healing Mass and workshop. Details are deeper into this Flame. I hope to see you there.
PPS: I want to thank the many of you who have expressed condolences to me and my family at the passing of my mother Dorothy on August 15 of this year. Your prayers and expressions of sympathies were greatly appreciated.