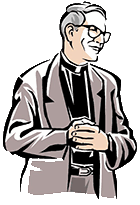 The Flame: Nov/Dec 2013
Dear Readers of The Flame,
In late September of this year I made a retreat at The Abbey of Our Lady of Gethsemani in Kentucky. It was a "silent, self-directed" retreat. There was one talk by a monk each day. Otherwise, those on retreat were free to celebrate Mass and chant the Psalms with the monks.

The monastery bell chimed at 3:00 AM for the first part of the Divine Office, which took place fifteen minutes later. The rest of the day was punctuated by liturgical prayer and Mass in the chapel, as well as personal prayer, reading, napping and walking on their two square miles of property, much of which is undeveloped. This was a silent retreat, which meant that those making the retreat were discouraged from speaking to one another. At our orientation we were told, "Silence may be the best possible gift you can the other people on retreat." Though our meals were taken in common, we were silent. Other than going to confession, commenting to a monk about one of his talks and making a purchase at the gift shop, I kept silent.

However, I did talk with God often throughout the day. I also tried to listen to Him. Interestingly enough, the General Prayer intention for the month of September by the Holy Father was that, in our noisy world, people would again appreciate silence and learn to hear God's voice. In September, at Gethsemani, I was trying to do that. Appreciating silence is a great need in our time. From without, there are a multitude of voices competing for our attention each day. From within, we struggle with our own broken drives and
self centered thought patterns. Finally, there is the tempter, who seeks to influence us toward sin and fear. Silence helps calm the waves of noise that pour over us. Silence helps us sort out our thoughts. We begin to discern which thoughts are from the world, which ones are from ourselves, which ones are from the enemy and which ones are from God.

One afternoon, as I was taking a walk, I reached down into my pocket and grasped a small crucifix that I carry. It was at that moment that I realized I was thinking about someone in a critical manner. As I held the crucifix, I repented of my thoughts and prayed for and thanked God for that person. As I looked at the crucifix, I thought about Jesus. "Though harshly treated, he submitted and did not open his mouth; like a lamb led to slaughter or a sheep silent before shearers, he did not open his mouth." (Isaiah 53:7) Yet, when he was asked at his trial, "Are you the Messiah, the son of the Blessed One?"…Jesus answered, "I am; and 'you will see the Son of Man seated at the right hand of the Power and coming with the clouds of heaven.'" (Mark 14:61b-62) Jesus knew when to be silent and when to speak the truth in love. This grace to know when to speak and yet not yield to the provocations of his enemies was the fruit of his communion with his Heavenly Father.

We are approaching, in some ways, the noisiest time of the year. Some of the noise generated by the holidays is good, such as the gathering of friends and family. However, much of the noise of this time of year is a distraction. The drumbeat of "buy, buy, buy", which permeates the marketplace, can overly influence our thoughts and distract us from the Lord.

As we approach the coming celebrations of Thanksgiving and Christmas, let us cultivate some time for silence. We need to listen to the Word made Flesh, Jesus Christ. Jesus gives us the Holy Spirit so that we can hear his ever ancient message anew in our day. His voice cuts through the noise of our times and leads us to heaven. Let us "…listen to Him." (Matthew 17:5)
Sincerely in Christ,

Fr. Bob Franco
PS: I want to thank you for your prayer support of CRM over the past year and for your participation in our events in 2013. Please pray that, guided and empowered by the Holy Spirit, we may help many people to "serve the Lord with gladness" (Psalm 100:2) in 2014.