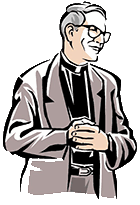 The Flame: November/December 2012
Dear Readers of The Flame,
I believe it was Karl Barth (1886-1968), a Protestant theologian, who said, "Christianity is a prophetic inter-pretation of reality." I have often thought about that statement.

There are many ways to interpret reality. One popular way today is through the prism of science. Many peo-ple believe that everything can be explained by sci-ence. To be certain, much can be understood by the biological sciences, the physical sciences and even the social sciences. However, does the understanding we gain by these sciences give us a true interpretation of reality?

Some people interpret reality in economic terms. Life is analyzed through the lens of profits and losses, wealth and poverty, those who have and those who have not. Yet, does this give the full picture of reality?

It is easy for us as believing Catholic Christians to see the shallowness of interpreting reality simply in terms of scientific or economic data. Unfortunately, many people are so busy that they do not stop to ask the question, "Is this all there is?" And, to be honest, there are those who do have the time to ponder that ques-tion, but are afraid of what they might discover. It might shake up their lives!

When Mary and Joseph presented Jesus in the Tem-ple forty days after he was born, Simeon prophesied, "…this child is destined for the fall and rise of many in Israel, and to be a sign that will be contradict-ed…" (Luke 2:34) And so it would be. The rejection of Jesus Christ would lead to the downfall of many. The acceptance of Christ would lift up the believer in ulti-mate victory.


The truth is that reality can only be interpreted through Jesus Christ, the Son of God, the Eternal Word made flesh. It is in Jesus Christ we find the meaning of life. Science gives us an insight into the "how" of the uni-verse. Economics gives us some insight into the "how" of the exchange on goods on planet earth. However, it is only through Jesus Christ do we have the question "Why?" answered. It is in Him we know why we are here and how we are to live. We are drawing near to the season of Christmas. In the person of Jesus Christ, we celebrate the answer to life's most important questions. Who are we? Why are we here? Where are we going? As we celebrate the birth of Jesus, I pray that the wonder of this reality flood our souls in such a way that we really know:
+ who we are: the beloved children of God
+ why we are here: to live for Jesus Christ and the fulfillment of his commands
+ where we are going: to the heaven Jesus promises
We interpret reality through Jesus Christ. Therefore we are a hope that is unconquerable! By our Spirit inspired thoughts, words and deeds, let us witness to the world the whole of reality: Jesus Christ!

I want to wish each of you a Thanksgiving filled with gratitude and a Christmas filled with joy!

Sincerely in Christ,

Fr. Bob Franco