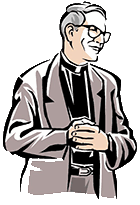 The Flame: May/June 2011
Dear Readers of The Flame,
Many years ago I recall reading an article in New Covenant magazine by Rev. Bob Mumford, a longtime leader in the nondenominational charismatic movement. The article dealt with what seemed, at the time, a very non-charismatic subject. The article focused on suspicion. Though I do not recall many specifics in the article, the gist of it was that suspicion was a bad thing. A mind poisoned by suspicion will easily write off relationships, spread rumors and perhaps even destroy communities. Suspicion did not build up the body of Christ. It planted seeds that could sprout to fragment the people of God.

In 1950 Sen. Joseph McCarthy (Senator from Wisconsin 1947-1957) made a speech in which he asserted that there were many Communists in the U.S. State Department. At this time the Soviet Union, Eastern Europe, China and parts of Asia were all Communist. His speech and the investigations that followed caused many people to suspect a number politicians and public figures of being closet Communists. A sort of hysteria ensued. However, when investigations in 1954 revealed that many of his claims were unsubstantiated, his fellow Senators censured Joe McCarthy. Though Senator McCarthy has passed on, McCarthyism, the practice of making accusations of disloyalty, subversion, or treason without proper regard for evidence (Wikipedia definition), continues. Sometimes we see it in the Church.


Some Catholics on the liberal side of things will be suspect of any Church leader that seems formal or rigid. Some conservative Catholics will be suspect of Church leaders who highlight social justice.

As we celebrate the resurrection of Jesus Christ and remember the New Covenant he inaugurated by his own blood, let us also remember the new commandment: love one another as I have loved you. Two words come to mind when I reflect on how Jesus loved us. The first is sacrifice. Jesus laid down his life for sinners. We would do well to make sacrifices for all our brothers and sisters, even those we do not understand or perhaps disagree with.

The second word that I believe describes how Jesus loved us is patience. When Jesus revealed himself to the disciples after he rose from the dead, he did not ask, "Where were you when I was on the cross? How come you ran away when I was arrested?" Jesus forgave them and gave them multiple chances to get it right. (Thank God he does that with us!) Should we not imitate patience toward each other and give one another the benefit of the doubt? We would do well to imitate the patience of Jesus and seek to understand others more than be understood by them.

Yes, suspicion can wreak havoc on a community. However, the "love [that] covers a multitude of sins" (I Peter 4:8) will bring healing and unity to the Church on every level.

Sincerely in Christ,

Fr. Bob Franco
PS: Our day on March 27 with Jim Murphy was wonderful. Thanks to all who made it a great day! Please check out the calendar for charismatic masses (including Pentecost) and other CRM events.