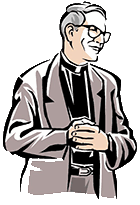 The Flame: May & June 2008
Dear Readers of The Flame,
Modern psychology has come up with a label for an age old problem. The label is ADD. It stands for Attention Deficit Disorder. (It is also referred to AD/HD. This stands for "attention disorder/hyperactivity disorder".) The short definition is that some people have a difficult time paying attention. They struggle with staying focused and being engaged in what is happening around them.
Some people blame it on the pace of media and our culture in general. The faster things move around us, the less time we focus on them. Hence, a video game that does not require attention beyond of a few seconds does not train a person for long periods of concentration. Its treatment consists of training and, at times, medication.
However, ADD has been present in every age. While I was in school, most of my classes seem to have a person who always asked the question that the teacher had just answered. We even see this phenomenon in the bible. At the Last Supper Jesus said "Whoever has seen me, has seen the Father." St. Philip then asked, "Show us the Father and that will be enough for us." (John 14:7-8) I sometimes imagine Jesus thumping his own forehead with the palm of his hand and saying, "Phillip, didn't you just hear what I said?!!!"
The whole human race has ADD with regard to God. We have poor memories and are quick to forget when it comes to aspects of our faith. Thank God he has training and medicine for us in the person of the Holy Spirit.
Part of the work of the Holy Spirit is to remind us. Jesus said, "The Advocate, the Holy Spirit that the Father will send in my name-he will teach you everything and remind you of all that I told you." (John 14:26) The Holy Spirit keeps the memory of Jesus fresh and alive for us. The Holy Spirit does not merely help us to recall the distant past. The Holy Spirit makes the person of Jesus Christ an ongoing and vital reality for us.
As we celebrate Pentecost this year, let us beg the Lord to fill the Church with the Holy Spirit in fresh and wonderful ways. Our world needs God's saving mercy in Jesus Christ. We, the Church, need the wisdom, power and love of the Holy Spirit to bring to the world good news of God's mercy in Jesus Christ. Come Holy Spirit!
There will be two special celebrations in May to pray for the coming of the Holy Spirit. Bishop Richard G. Lennon will be presiding at Evening Prayer on the Vigil of Pentecost on Saturday, May 10 at 7:30 PM. This celebration will be at St. Basil Parish in Brecksville. The charismatic renewal, as well as those in other ecclesial movements and associations of the Lay Faithful, are invited to gather with the Bishop to pray for our diocese and Church on the Eve of Pentecost.

Secondly, foregoing our annual Pentecost Mass due to it falling on Mother's Day, we will be celebrating mass later in the week. That mass will be on Friday, May 16 at St. Michael Parish in Independence. The time is 7:00 PM. All are welcome!!!

The Holy Spirit is God's answer to our spiritual version of ADD. May we be ever filled with this wonder-filled gift of God!

Sincerely in Christ,
Fr. Bob Franco

PS: Upcoming charismatic masses:
St. Michael's in Independence on Friday, May 16 at 7:00 PM
Divine Word in Kirtland on Friday, June 27 at 7:30 PM