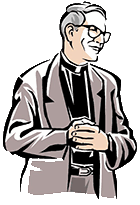 The Flame: May/June 2022

Dear Readers of the Flame,
From that time on, Jesus began to preach and say, "Repent, for the kingdom of heaven is at hand." As he was walking by the Sea of Galilee, he saw two brothers, Simon who is called Peter, and his brother Andrew, casting a net into the sea; they were fishermen. He said to them, "Come after me, and I will make you fishers of men."
(Matthew 4:17-19)
In Matthew's gospel, this is how Jesus began his public ministry. St. Matthew dedicated the first verse to Jesus ministering to the crowds. In the next verse, St. Matthew has Jesus calling his first disciples.
This would be the rhythm of Jesus' ministry.
He would minister to the large groups of people through his healing and preaching activities. And Jesus also spent significant time forming his disciples. In Luke's gospel, this included a group of 72 (Luke 10:1), as well as the 12 apostles. Even among those 12, Jesus invested more time in Peter, James and John.
I believe this pattern of serving people at large, but also intentionally forming disciples, gives us an insight.
Jesus was not only interested in serving large groups of people, but in fact, He seemed more interested in investing himself in a small group of people who would extend his ministry after he was gone.

And perhaps this points to one of the weaknesses of the charismatic renewal in our day.
Many, who were deeply touched and empowered by the Holy Spirit, were all about exercising a lay apostolate by leading prayer groups, heading up music ministries, serving on healing teams, et cetera.
However, many of us who were doing those things were not looking for people to train so as to take our places or (even better) multiply our ministry.
I recently read part of a book called Hero Maker: Five Essential Practices for Leaders to Multiply Leaders by Dave Ferguson.
Two things caught my attention about this book.
The first was the title.
Mr. Ferguson acknowledges that we often want to be the hero. However,
our model, Jesus Christ, focused on being a hero maker.
Even with regard to the gifts of the Spirit, Jesus said,
Amen, amen, I say to you, whoever believes in me will do the work that I do, and will do greater ones than these because I am going to the Father.
(John 14:12) Jesus imparted a vision to evangelize the whole world to his closest followers.

The second thing that struck me about this book, and for sure, about Jesus, was that his investment in training and equipping disciples really paid off!
After his departure and the empowerment by the Holy Spirit, that his disciples experienced on Pentecost, the ministry of Jesus was not diminished. In fact, His words and works were multiplied because he had formed his disciples.
Those disciples understood that they were to become hero makers too.
St. Paul summed this in up in 2 Timothy 2:2.
And what you have heard from me through many witnesses entrust to faithful people who will have the ability to teach others as well.
This verse refers to four generations of handing on the gospel:
Paul to Timothy to faithful people who can teach to others.

I share these thoughts as a segue into a discussion that the General Service Committee and I had at a recent meeting.
Most of us have served on this committee for many years. We have put on conferences, days of renewal, workshops, charismatic and healing Masses and other sorts of Spirit filled events. We have done good things in the name of the Lord.
However, we have not had many new members on this committee for a while. And we basically said to each other: We need new members.
With new members comes new ideas and fresh enthusiasm to build up the charismatic renewal in our diocese. Also, the General Service Committee has some (certainly not all) collective wisdom to hand on to other people who want to serve the renewal.
And so I am making this appeal: We are looking new members on our General Service Committee. Please prayerfully consider this appeal.
I realize that the parish is the primary place where Catholics are strengthened in word and sacrament. However, ministries such as Catholic Renewal Ministries have a unique and important role to play in evangelizing and equipping people so that they may be more devout disciples of Jesus Christ.
Ken Posavad, the chairman of General Service Committee, has a Help Wanted blurb in this newsletter. His contact information is listed. Please prayerfully consider this appeal
.
Or better yet,
if you know someone who could serve the charismatic renewal on the diocesan level, please encourage them to contact Ken. Like Mary prodding Jesus with "They have no wine", your loving encouragement may be the nudge a person needs to step out of their comfort zone into this arena of service.
In the meantime, I hope to see you at one of our upcoming events.
There will be a healing Mass at St. John Vianney on Friday, May 27. Our Pentecost Mass will be on Sunday, June 5, at St. Peter Parish in North Ridgeville. And most importantly, our annual charismatic conference will be Saturday, July 16, at St. Albert the Great Parish in North Royalton.
Amid these turbulent times, we need to be a people who
Rejoice, Pray and Give Thanks
(the theme of our conference). We know that Jesus Christ is Lord, the Light shining in the darkness. More information about all these events are in this issue of the Flame as well as on our website at
www.crmweb.org
In Christ,
Fr. Bob Franco
Bishop's Delegate to Catholic Renewal Ministries