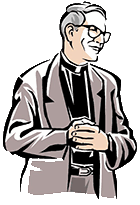 The Flame: May-June 2021
Dear Brothers and Sisters,
Let me refresh your memory of Hans Christian Anderson's folktale entitled The Emperor's New Clothes. It is story about a vain Emperor who loved more than anything being praised for his wardrobe. He changed his clothes multiple times a day just to be praised for it.
Two swindlers came to town and told the Emperor that they would weave the him beautiful, comfortable and well-fitting clothes that "had a wonderful way of becoming invisible to anyone who was unfit for office or unusually stupid". Because the vain Emperor enjoyed beautiful clothes and because he thought that this would be a good way of finding out who was unfit for office and stupid, he commissioned the swindlers.
After much time, effort and money the "clothes" were completed. Those who saw the "weavers" creating the "clothes" saw nothing. However, no one wanted to appear unfit for office or stupid so they did not say anything. The day came for the Emperor to don his "clothes." He too saw nothing but did not want to appear unfit for office or stupid.
As he paraded his new "clothes" before the townsfolk, many praised his new "clothes." They too saw nothing but were afraid to be called unfit for office or stupid. It wasn't until a child said, "But he hasn't got anything on," that the spell was broken. Soon the town began to echo the child's statement. And though the Emperor suspected they were right, he proudly walked on in procession.
The story would be more humorous if it did not ring so true for our times. St. Paul put it this way:
…for although they knew God they did not accord him glory as God or give him thanks. Instead they became vain in their reasoning, and their senseless minds were darkened. While claiming to be wise, they became fools. (Romans 1:21-22)
St. Paul went on to describe the moral perversions of his time because people rejected God.
In our day, many have rejected God. Others have kept a form of religion but deny its power (II Timothy 3:5) or relevance. Yet here is the paradox: people's denial of God has led to a denial of their humanity.
In our day, people deny their very DNA and bodies. Instead of learning to accept how they were created, they attempt to recreate their bodies and body chemistry to what they want them to be. Many people call this being enlightened. Many others feel uneasy about it but go along because, like the Emperor's retinue and town's folk, they do not want to be seen as unfit for their office or stupid.
I am not making light of gender dysphoria or the mental anguish these people feel. They deserve our respect and love. No matter their struggles, they are made in God's image and are loved by God. However, this does not mean that we deny the truth of their physical make up or that we are on board with hormone treatments and surgery that mutilates a person's body.
A twentieth century Christian adage goes: God loves us so much that He accepts us right where we are; but He loves us too much to leave us there. We seek to accept people where they are. However, we also know that God is moving everyone to genuine freedom, healing and especially holiness. (I Peter 1:15-16).
No matter where a person is at, the Lord Jesus is calling them to himself. It is not for us to judge whether a person is open to the gospel. We are to:
proclaim the word; be persistent whether it is convenient or inconvenient; convince, reprimand, encourage through all patience and teaching.
St. Paul went on to acknowledge a reality that is very much part of our own times:
For the time will come when people will not tolerate sound doctrine but, following their own desires and insatiable curiosity, will accumulate teachers and will stop listening to the truth and will be diverted to myths. But you, be self-possessed in all circumstances; put up with hardship; perform the work of an evangelist; fulfill your ministry. (II Timothy 4:2-5)
I realize that not everyone is equipped or called to convince and reprimand. However, all of us can become better witnesses of Christ. Our deeds and virtuous lives are our first proclamation of the gospel. We can also study and pray and learn to communicate our faith more boldly and completely.
As we approach the upcoming Solemnity of Pentecost, I was reflecting on an adage that circulates in the charismatic renewal:
A new evangelization needs a new Pentecost.
As I searched for the origin of this phrase on the internet, I came across this quote of St. Paul VI in some published notes that Ralph Martin used in an address he gave at the Jubilee celebration of the charismatic renewal in Rome in 2017. The Pope said:
More than once we have asked ourselves what the greatest needs of the Church are…what is the primary and ultimate need of our beloved and holy Church? We must say it with holy fear because as you know, this concerns the mystery of the Church, her life: this need is the Spirit…the Church needs her eternal Pentecost; she needs fire in her heart, words on her lips, a glance that is prophetic. (General Audience, November 29, 1972)
For the Church to be the Church, we need the Holy Spirit! We who have shared in the Spirit and tasted the good word and the powers of the age to come (see Hebrews 6:4-5) must continually pray for the coming of the Spirit into our lives and into the life of the Church in an ever fuller way. L
et us join St. Paul VI, our Lady and all the saints in praying for that eternal Pentecost to become a tangible reality for the Church. It is the only way we can meet the challenges of our day.
In Christ, Fr. Bob Franco
In Christ,
Fr. Bob Franco