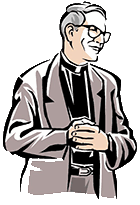 The Flame: May/June 2017
Dear Readers of The Flame,

Our walk with the Lord begins with a prayer something like, "You are God and I am not!" This prayer overturns our tendency to run our lives. The Lord knows what he is about. It is our task to discover his ways and do his will. The Lord is God and we are not! In this year of Jubilee for the charismatic renewal, I am taking some time to ponder what God is doing in our time. Her e ar e three aspec t s of the charismatic renewal that I believe tie into what God is doing.

The origins of this modern charismatic renewal flow from the famed Duquesne Weekend, February 17-19, 1967. However, the real origins of this modern renewal stretch to the turn of the century. I wrote of some of these things in my January/February letter: Blessed Elena Guerra and her prayer crusade to the Holy Spirit, Rev. Parham (a Protestant minister) and the Topeka, Kansas experience of speaking in tongues, and Vatican II, which prayed for a New Pentecost and described the charisms in its documents. These seeds of the modern charismatic renewal tell us that God answers intercessory prayers. The Lord works in those who are open, both Catholic and non-Catholic Christians. And our response to what God is doing means that we need to pray, love all Christians and be completely Catholic at the same time!

The experience of the charismatic renewal is both intense and authentic. Though experiences vary when people are prayed with for the baptism of the Holy Spirit, these experiences are often intense. They are l i fe changing. Authenticity is revealed in two ways. People bear the fruit of the Holy Spirit: love, joy and peace. They also manifest a "love of truth" (II Thessalonians 2:10) - the truth of our faith and of how to relate to God, others and the world. People who have this intense encounter with the Lord most often do not seek out more intense experiences of God. They simply seek God.

I believe this intense and authentic experience of the power of the Holy Spirit tells us that God wants us to experience Himself. We need to be open to this. We do not rashly seek experiences of God. However, we do not write them off either. We also need to foster a love of the truth in our lives. God wants us to know the truth because the truth will set us free. (John 8:32)

The charisms (spiritual gifts) manifested in this renewal are both powerful and purposeful. The Lord heals the sick. He speaks words of encouragement that restore hope. The Lord guides us supernaturally and rationally. He gives us the wisdom and discernment to sort out this guidance. The Lord gives us these gifts for a purpose: to equip the Church to fulfill its mission.


Our response to God's initiative is to "strive eagerly for the greatest spiritual gifts." If we are going to go with the flow of his plan, we need the power and gifts of the Holy Spirit.

To sum up: we strive to fit in with what God is doing. His work is within and beyond the Catholic Church. (Could it be he is making us the answer to Christ's prayer - that they may all be one - John 17:21?) The Lord wants us to experience him and his truth, living in the power and charisms of the Holy Spirit in order to fulfill the mission Jesus Christ left us. ( Matthew 28:19-20- make disciples!!! )

Is the charismatic renewal the whole of God's plan? No. God's plan is revealed in Jesus Christ through the Church. It includes: doctrine, sacraments, saints, movements, institutions, apparitions, care for the needy, a call to social justice and much more. However, without charismatic renewal the Church would sorely be lacking. The power and gifts of the Holy Spirit equip the Church to evangelize. They also give us another avenue to seek unity.

As I end this reflection, I want to warmly invite you to our annual Pentecost Mass. This year Ss. Cosmas and Damian Parish (Twinsburg, OH) will host the Mass at 2:00 PM on Sunday, June 4th. Healing prayer and refreshments will follow. I also invite you to the Diocese of Cleveland 35th Annual Charismatic Conference aptly entitled, Fount of Life, Fire of Love, July 14-15 at Magnificat High School. Please see the brochure in this issue of the Flame. Both the Pentecost Mass and Conference will refresh you and reignite the flame of the Spirit in your life.

This treasure called the charismatic renewal is a gift of God for our trying and confusing times. The Lord is God! Let us fit into what God is doing.


Sincerely in Christ,
Fr. Bob Franco


Bishop's Delegate to Catholic Renewal Ministries