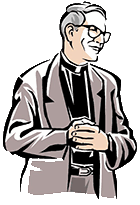 The Flame: May/June 2016
Dear Readers of The Flame,
Almost 50 years ago, the Holy Spirit fell upon a small group of Catholic college students from Duquesne University in Pittsburgh. They were participating in a retreat at a place called The Ark and the Dove, located in the north hills area of Pittsburgh. They experienced the Lord in a personal and powerful manner, including the manifestations of charisms such as praying in tongues and prophecy.

This small retreat center was recently up for sale. In order to preserve this historic site where the modern Catholic Charismatic Renewal came to birth a number of people, in conjunction with the National Service Committee, a corporation to purchase this site was formed. Fr. Cantalmessa, preacher to the papal household, heard this news and said, "I cannot but rejoice over the decision…to buy The Ark and The Dove retreat house where the Catholic Charismatic Renewal had its first visible manifestation back in 1967. How we would be happy if we could purchase the Jerusalem Cenacle where the first Pentecost took place!"

The Cenacle in Jerusalem where the first Pentecost took place is not for sale. And though it is a wonderful place to make a pilgrimage to, it is not the most important Cenacle in the world. The most important Cenacle in the world is the one we create in praying for the coming of the Holy Spirit in our day.


Ironically, Fr. Cantalamessa teaches this in his book Mary: Mirror of the Church. Based on the events of Acts 1, Fr. Cantalamessa says:
…the first point is that before undertaking anything at all and setting out into the world, the Church needs to receive the Holy Spirit; the second point is that prayer, above all, is the way to prepare for the coming of the Holy Spirit; the third is that this prayer must be of one accord and persevering.

This is what happened in Acts 1. Jesus highlighted the Church's need of the Holy Spirit (Acts 1:8). Then they prayed (Act 1:14), in one accord and with perseverance. Fr. Cantalamessa calls these three points a "sort of law, a paradigm placed at the beginning of the narration of the history of the Church to show the Church of all ages how the kingdom comes…"

In other words, the Church in every age has to acknowledge its dependency on the power and person of the Holy Spirit. Secondly, and perhaps most importantly, the Church needs to pray. And its prayer needs to flow out of unity (Acts 1:14) and with perseverance (Colossians 4:2). If our efforts are to make any difference in furthering the coming of the Kingdom of God, unified and persevering prayer for the coming of the Holy Spirit will precede those efforts. In imitating the events of Acts 1, we will see the Holy Spirit move in our days.

And if we want a continual Pentecost, we need to always:
✦ Acknowledge our utter dependency of the power and work of the Holy Spirit to make our efforts bear great fruit
✦ Pray at all times for the coming of the Spirit
✦ Be in accord, unified with our brothers and sisters in Christ

If the Church is to be the Ark of the Lord into which people of all nations are gathered to ride out storms and floods of our times, we need to invoke the help of the Dove, the Holy Spirit, who brings us the olive branch of peace.

I encourage you to be part of a Cenacle in praying for the coming of the Holy Spirit. Perhaps it will be with a prayer group. Perhaps you will form a prayer group, gathering with parishioners and friends, praying for the coming of the Holy Spirit. I invite you to the Life in the Spirit Seminar at St. Peter Parish on Friday, May 13 and Saturday, May 14, as we prepare for the Pentecost on Sunday, May 15. The most important thing is that we pray for the coming of the Holy Spirit and, if necessary, reconcile (so as to be in one accord) with our brothers and sisters in Christ. May we persevere!!!

Come Holy Spirit! We need you!!!

Fr. Bob Franco


Bishop's Delegate to Catholic Renewal Ministries