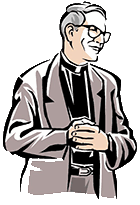 The Flame: May/June 2015
Dear Readers of The Flame,
"What is God's plan for my life?" It is a question that most of us have asked ourselves at some point in our lives. Often we may think of this question in terms of our vocation: married, single, ordained or religious life. Yet within our vocation, God has a plan for how we fulfill that vocation. It can best be summarized by the word growth.

Tolkien's popular Lord of the Rings series begins with four hobbits affectionately known as Frodo, Sam, Pippin and Merry setting out on a mission with very slim chances of fulfillment. Their enemies are powerful and cunning. Their resources seem scant. Their journeys are fraught with trouble, disaster, miraculous escapes and acts of providence.

However, they do fulfill their mission. And then they return to their homeland, the Shire, only to find that it has been taken over by servants of the enemy. Frodo and his friends realized that the enemy's main weapon against the Shire was fear. During their mission Frodo and company had faced fear on a much greater scale with the ultimate stakes hanging in the balance. They would not be cowed by these new rulers of the Shire. They made a plan, rallied their fellow hobbits and retook the Shire with relative ease.


It was clear that Frodo, Sam, Pippin and Merry had grown during their journeys. They had left Shire somewhat callow. They returned courageous, wise and good.

This is the plan of God for us. We are to grow and mature as we walk with Jesus Christ. Early in our walk with Christ we may have been overwhelmed by certain situations. We may not have known how to handle things. However, as we mature, we handle those same situations with grace and wisdom. We come to know the right way to do things. We learn to handle challenges that initially would have been beyond our pay grade. This is God's growthplan.

We are being prepared for eternity. God is preparing us to reign with Jesus Christ. Yes, we are seated with Christ now. (Ephesians 2:6). However, it is only when we endure with Christ that we are able to reign with Christ. (II Timothy 2:12a) God is about making us faithful and mature disciples of the Lord so that we can receive true riches.

This is why our understanding of the Communion of Saints is so rich. Saints do not only make it to heaven, they are given an ongoing ministry on earth. They intercede and assist us so that we too would fulfill our mission in the Lord. This does not detract from the glory due our God. It actually expresses it. God is magnanimous and bighearted. He has no "ego" to be fed. He shares his wisdom, power and love with us, desiring our growth. In the parable of the ten gold coins, Jesus said that the Master rewarded those who increased their coinage with cities! He found that they were trustworthy in small things. Their reward would be greater things. (Luke 19:12ff) The Lord wants to trust us with true wealth. (Luke 16:11-12) For those who keep growing, the Lord shares with us his divine nature (II Peter 1:3-11).

As I mentioned in my Partners in the Renewal letter in April, this is my 40th anniversary of being baptized in the Holy Spirit. I am grateful to God for bringing me to where I am today. I also acknowledge that I have a long way to go, and probably could be farther along if I had not, at times, resisted his grace at work in my life. Thank God for the Sacrament of Penance! Let us keep pressing onward!

As we approach the wonderfilled feast of Pentecost, let us pray to grow in the graces of the Holy Spirit. Exercising his gifts and bearing his fruit, we will glorify the Lord Jesus and build up his body, the Church. We will fulfill God's plan for us because we will mature and grow.
In Christ,
Fr. Bob Franco
Bishop's Delegate to Catholic Renewal Ministries

PS: I hope to see you at the Pentecost Mass this year at St. Mary Parish in Bedford, where we will be praying with those receiving Baptism in the Spirit before our Mass. For directions, simply google 300 Union St., Bedford 44146. Come Holy Spirit, and renew the face of the earth!