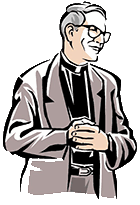 The Flame: March/April 2010
Dear Readers of The Flame,
I recently listened to the testimony of Fr. Donald Calloway. His testimony is a dramatic demonstration of God's grace rescuing a young adult who was enslaved to destructive behaviors. However, near the end of his presentation, Fr. Calloway highlighted a very important spiritual truth. He related that, after five years of walking with the Lord, God took away his spiritual lollipop. By "spiritual lollipop" he meant the tangible presence of the Lord one has at the beginning of one's walk. The Lord was asking him, "Do you love Me or the spiritual Goosebumps you feel?"
Fr. Calloway went on to say that God treats us as his sons and daughters. We are not animals ruled by instincts or robots that God simply programs. We have to choose his way, even when it is not easy and when there is no immediate reward.
In order to bring children to maturity, a parent will use different methods and motivations to bring their children along. The Lord does the same with us. In the initial stages of our walk, our efforts to pray and obey are often rewarded with a lively sense of His presence. However, as we mature, the Lord's plan is to conform us to the image of his Son (Romans 8:29). This means we do the Father's will when we are cheered or jeered. Jesus humbly did the Father's will when the crowds were with him on the hillsides of Galilee and when the crowds were against him in Jerusalem. His life was all about the Father's will. This is to be our life too-the Father's will.
The seasons of Lent and Eastertide provide us with a wonderful opportunity to mature as God's children. Our sacrificial embrace of almsgiving, prayer and fasting strengthen us to follow the Lord. Grasping the opportunities to be humble before the Lord will also help us mature as God's children.
Most of us have opportunities to imitate the humility of Jesus. These opportunities may come in the form of situations in which we are misunderstood. Or the opportunity may simply be a time when we are falsely blamed for something relatively insignificant. Our temptation is to become defensive in these circumstances. We want to explain things and make sure that we are understood. And I suppose there are some circumstances in which one ought to make that defense and seek to be understood. However, oftentimes our defensiveness simply makes us look good and others look bad. St. Francis wisely prayed to understand more than be understood. To accept humbling experiences like these will conform us to Jesus Christ, the One who was misunderstood and falsely blamed.
On another note: Catholic Renewal Ministries is encouraging prayer groups to offer Life in the Spirit Seminars during the Easter season in preparation for Pentecost, May 23, 2010. If your prayer group or parish will be having a LSS, please let CRM know. We would like to put this information on our website. If there is any way the CRM can assist your prayer groups with speakers or in any other way, please do not hesitate to call us.
Final word: CRM sponsored a Growth in the Spirit at the end of January. This was a wonderful event for the eighty or so people who participated. We hope to do this again this year. May we all grow in the more that God has for us.
In Christ,

Fr. Bob Franco