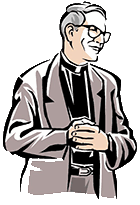 The Flame: March/April 2009
Dear Readers of The Flame,
In his Catholic Charities Annual Appeal homily, Bishop Lennon describe 2009 as a year of "change and challenge" for our diocese. I am sure he was referring the Vibrant Parish Life process. A significant number of Catholic parishes will be closing or merging with other parishes to form new parishes. This most certainly will involve change and challenge for many people.

I have three suggestions as we embrace the change and challenges of this moment. First, we need to remember the purpose of this process: vibrant parish life. The restructuring of institutions is to lead to a more vibrant, evangelistic and alive local church. The ultimate goal is to strengthen the rest of the church to fulfill its mission-presenting Christ to the world.

Secondly, we need to fix our eyes on Jesus (Hebrews 12:1). I recently had a covering made for our parish gospel book. The covering, made out of rich fabric, has a front panel that can hold a picture. The parish purchased some Byzantine icon prints which will be changed according to the liturgical season. The print used for the gospel book during Lent is entitled "Extreme Humility."
It is a picture of Jesus, crowned with thorns, clothed in purple, with wrists bound and the cross in the background. The picture highlights the message of Hebrews 12. It speaks of Jesus, "who, for the joy set before him, endured the cross, despising its shame, and has sat down at the right hand of the throne of God. Consider him who has endured such hostilities by sinners against himself in order that you may not grow weary or fainthearted." (Hebrews 12:2b-3)

Like Jesus, we must not give up the faith when times are difficult. Though Jesus prayed that the cup of suffering would pass him by, his deepest prayer was to do the will of the Father. This timeless message fits whether our parish is downsizing, our employer is laying off, or we are simply becoming despondent with our own personal struggle against sin. We must keep our eyes fixed on Jesus and press on in following him.
Finally, we need to seek to live a deeper life in the Spirit. During the 2008 charismatic conference, this prophecy was given:
My people, to you who have ears, listen to me. I have drawn you here. All you who hunger and thirst, come deep into my heart and I will show you how much I love you. I will transform you. Come to the well spring of life, my Holy Spirit.
I will ignite the fire of my love in you. It is harvest time. Few are working. I am sending you out into the world. You will radiate my love to all. Tell them about me and how rich I am in mercy and how my love endures forever. Listen my people and answer my call.
There is a rhythm in this word. The first part invites us to a deeper life in the Lord. This Lenten season is the perfect time to embrace afresh the disciplines of almsgiving, prayer and fasting. We need to draw close to Jesus and drink deeply of his Spirit.

The second part of this prophecy is a commission. Imbued with the Spirit we are to give clear witness of Jesus to our misguided and weary world. We seek the presence of the Lord not merely for our own consolation. We want to be equipped to work in the Lord's vineyard.
This is the purpose of the Church. This is the purpose of each parish. This is the purpose of each parishioner! Let us fix our eyes on Jesus, drink deeply of his Spirit and radiate his presence in our spiritually darkened world. Then changes and challenges of this year will become the seeds of a resurrected Church.
Sincerely in Christ,

Fr. Bob Franco
PS: Our next charismatic masses will be on Tuesday, March 31 at Our Lady of the Angels, 3644 Rocky River Drive, on Cleveland's West Side and on Friday, May 1st at The Conversion of St. Paul's Shrine, 4120 Euclid Ave., on Cleveland's East Side. Both masses will be at 7:30 PM.