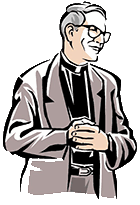 The Flame: March & April
2008 Dear Readers of The Flame,
Some of my favorite verses in the bible come from its saddest book:
The favors of the Lord are not exhausted; his mercies are not spent. They are renewed each morning, so great is his faithfulness. (Lamentations 3:22-23)
No matter the circumstances, God's mercies and blessings surround us. He is faithful beyond our comprehension. The Lord is about making all things new (Revelation 21:5) even when all seems old and decrepit. The problem is that we become accustomed to the old. We get use it and do not grasp the grace of the day to pursue the Lord in his work of making all things new.

One of my first cars was an AMC Gremlin (from another millennium!) It ran OK for an old car. However, it had a problem with rust. In fact, the hinges on the driver's side door were so badly rusted that the door dropped an inch or so every time I opened it. Not wanting the door to fall off altogether, I took to getting in the passenger's side and sliding across the bench seat to the driver's side.

This routine became "normal" for me. Anytime I went somewhere I automatically went in on the passenger side and slid across into the driver's seat. On a nice evening I might walk an appointment out to their car in parking lot to the passenger's side of their car (like that was normal!). Needless to say, when funds were assembled, I purchased a new car. However, for the first week or so, I still found myself gravitating to the passenger's side of the car. Bucket seats quickly reminded me to go the driver's side and get in!

Spiritually speaking, there may be areas of our lives where we have grown accustom to dysfunction. Sometimes our prayer life can be more characterized by routine prayers uttered hastily than by a "heart to heart" sharing with the Lord. We can also become tolerant of other relationships that are not healthy. We fear rocking the boat. We may be doing things we think are normal, but are not.


St. Paul tells us, "So whoever is in Christ is a new creation; the old things have passed away; behold, new things have come." (II Corinthians 5:17) As we approach the most holy days of the liturgical year, join me in praying that we can live in the newness of life that Jesus Christ purchased for us at so great a cost. Jesus did not die and rise to make a nice comfortable rut for us. He died to save the world! And we are to be living icons of His saving power, proclaiming this message that is both good and renewing.

As I write this letter, Easter Life in the Spirit Seminars are still being organized. One or two may get into this issue of the Flame. However, please keep an eye on your local bulletins as well as on our website (www.crmweb.org). These seminars are a great way to shake off the rust and encounter the Lord who makes all things new by the power of his Spirit.

Also, look for two special events in May. On the Saturday, May 10th, the Vigil of Pentecost, our Bishop Richard Lennon, will be celebrating Evening Prayer with members of ecclesial movements. All in the charismatic renewal are invited. The time is 7:30 PM at St. Basil Parish in Brecksville. A reception will follow.

Secondly, our May charismatic mass will be on Friday, May 16th at 7:00 PM at St. Michael Church in Independence. We will take time to pray for baptism in the Spirit at this mass for those who are making the Easter Life in the Spirit Seminars throughout the diocese.

Sincerely in Christ,
Fr. Bob Franco

PS: Upcoming charismatic masses:
St. Christopher's in Rocky River will be on March 28 at 7:30 PM
St. Mary's in Hudson will be on April 25 at 7:30 PM