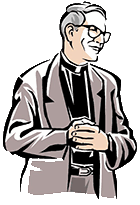 The Flame: March/April 2015
Dear Readers of The Flame,
I was 17 years old and just finishing a date with a young woman named Karen. As we sat in her driveway she asked me, "What are you thinking about?" To be honest, I do not know what I was thinking about. However, what came out of my mouth was, "What's it all about?" It was a question that somewhat startled me. It also began to nag at me. What is life all about?

Perhaps it was the years I had at Catholic elementary school or my weekly attendance at Mass (though I attended weekly, my attendance might be better characterized as weakly), I knew the answer to that question: Jesus Christ. I also knew that I was not responding to Christ as I should have been. Over the next couple of years I began to take steps toward the Lord. These responses to the movements of the Holy Spirit in me prompted me to surrender my life to the Lord and be baptized in the Holy Spirit in April of 1975. I was a 19 year old freshman at the Ohio State University.


What is it all about? The ironic thing is that many people seem to be too busy or distracted to ask the question! Yet, if we are going to be busy, we ought to be busy about the right things. Without an anchor for the soul (see Hebrews 6:19-20) we are subject to every passing fancy (see Ephesians 4:14).

Alice von Hildebrand, a devout Catholic and retired professor of philosophy at Hunter College, recently reflected:
The great tragedy of today is that truth has been replaced by preferences, goodness by whim and beauty by "fun." In my 37 years of teaching, the overwhelming majority of students I encountered were of the belief that truth, goodness and beauty were relative: They were whatever you wanted to make of them. [Modern thinking is that] my conception of them [truth, goodness and beauty] may differ from yours, and this was to be celebrated, not lamented…

Today, we have largely replaced beauty with "fun." What I mean by "fun" is the countless distractions that help us to forget that we are tremendously bored. The noise, flash and inanity so common today serve to keep us oblivious to our own disconnect with reality. Instead of searching for meaning in life, we cover up our present lack of purpose with an abundance of superficial delights. (From the National Catholic Register article In Person, 12/29/14)

Amazing! At the bottom of our busyness and distractions is boredom! And why are we bored? It may be that we are avoiding the question, "Why am I here?" The seasons of Lent and Easter direct us to Jesus Christ. As we witness the passion of Christ, we see both the beauty of God's love and the ugliness of our sinfulness. As we witness the resurrection of Jesus Christ from the dead, we get a glimpse of why we are here. In Christ we are not destined for death, but for eternal life. Questions 3-5 of the Baltimore Catechism put it this way:
3. Why did God make us?
God made us to show forth His goodness and to share with us His everlasting happiness in heaven.
4. What must we do to gain the happiness of heaven?
To gain the happiness of heaven we must know, love, and serve God in this world.
5. From whom do we learn to know, love, and serve God?
We learn to know, love, and serve God from Jesus Christ, the Son of God, who teaches us through the Catholic Church.
(The Baltimore Catechism, revised 1941)

During these seasons of Lent and Easter, I invite you to lay aside your busyness and distractions and fix your eyes on Jesus, the author and perfecter of our faith. (Hebrews 12:2) By personal prayer, fasting and works of mercy let us discover ever more deeply why we are here: to know, love and serve God, as taught by Jesus Christ and the Church, and thus gain heaven.

I also invite you to participate in a Life in the Spirit Seminar. A number of prayer groups and parishes will be offering LSSs during this upcoming Easter season. As Jesus said, "It is the Spirit who gives life…" (John 6:63). He will teach us ever more deeply the meaning of life: Jesus Christ, the way, the truth and the life. (John 14:6)



In Christ,
Fr. Bob Franco
Bishop's Delegate to Catholic Renewal Ministries