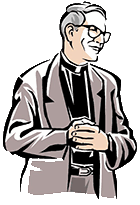 The Flame: March/April 2014
Dear Readers of The Flame,

"So what's new?" I am sure you have often been asked this question, even as I have. Sometimes the question paralyzes me. If I take the time to look back on my life, I see many new things. However, at that moment, I cannot think of any of them. So my standard answer to the question, "So what's new?" is: Jesus is Lord…we'll never get bored.

We are entering the liturgical seasons of Lent and Easter. These are seasons of spiritual renewal. Through baptism we are given a new birth (John 3). In Christ, we become "new creatures" (II Corinthians 5:17) for the Father is about making "all things new." (Revelation 21:5). So this is God's plan: moving us from glory to glory (II Corinthians 3:17), revealing ever more clearly the person of Jesus Christ. However, if we are honest with ourselves, we often approach these seasons as "one more lap around the liturgical track." Instead of spiraling more deeply into the life of the Holy Trinity, we get stuck in a routine. Cardinal Jorge Bergolio (now Pope Francis) said:

The great risk of becoming accustomed to something is indifference. Now nothing surprises us, causes us to shudder, delights us, strikes us, or inspires us to question anything. We become accustomed to the sad sights that appear more every day in our streets…With habituation comes indifference: we are not interested in their lives, their stories, their needs or their future. (Ash Wednesday, 2009) These seasons are to move us out of ourselves and into Christ in such a way that we connect with others, especially the needy.

Without throwing out our good habits, how can we break out of the routines that insulate us from the workings of the Lord? Let us make it our prayer simply to ask the Lord to move us to where he wants us to be. For most of us, the Lord is about rooting out our immature and selfish, sinful tendencies and growing the fruit of the Holy Spirit. Perhaps we can simply beg the Lord to manifest the fruit in us that best counteracts our personal weaknesses. It will certainly be seeking Christ in the broken and needy and tending to them. We can seek out the examples of the saints as to how God helped them to grow. We make use of the sacrament of Penance, especially by investing more time in preparing to celebrate this great gift of our Lord.


Leaders throughout the charismatic renewal in the United States have put together a plan for the celebration of the 50th Jubilee of charismatic renewal in 2017. The year 2014 has been designated as the "Year of Charisms and Grace for the Church". It is to be a time to seek a renewal of the gifts of the Holy Spirit in our lives. Do you have the gift of tongues? How often do you use it? Do you desire this or other spiritual gifts? How earnestly have you sought them? (I Corinthians 12:31a and 14:1).

National leaders from various charismatic groups have collaborated to write a document for the "Year of Charisms and Grace for the Church". You may find it at: www.nsc-chariscenter.org Scroll down to "Online Formation is Finally Here!" The second paragraph has a "click here" link to read or download the document.

So what's new? I pray that these seasons of Lent and Easter plug us into the grace of God in such a way that we can give clear witness to Jesus Christ, who is about making us new. Breaking out of the routine may we share the gifts of the Spirit in such a way that the people of God are more effectively evangelized and alive in the Holy Spirit!

Sincerely in Christ,

Fr. Bob Franco