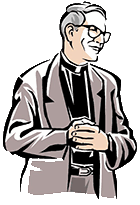 The Flame: March/April 2013
Dear Readers of The Flame,
As you know, last October the Church began the Year of Faith. This is a great opportunity to grow in knowing and living our faith. The theme of the Diocese of Cleveland is Living our Relationship with Jesus Christ. Faith is something we believe in and something we practice. Ultimately, faith is a trust-filled relationship with Jesus Christ.

We need this Year of Faith. One reason is because many people have quit believing. Some people were scandalized by the actions of the clergy, the lack of action by the hierarchy and consequently have abandoned the practice of the faith.

Other people have given up on faith due to the explosion of scientific knowledge. Their knowledge of material reality seems to have supplanted faith in God. They think, "The mysteries of life are now explained." Hence, there is no need for God. Ironically, it was believers in God and Jesus Christ who pioneered scientific research. They reasoned that since the universe was orderly, predictable and governed by law that there must be an Intelligent Designer (God) who created all this.

Other people seemed to have fallen into a "practical atheism". They may pay some lip service to faith. However, their belief is not translated into any kind of action. Caught up in a culture that emphasizes individualism, hedonism and minimalism (those are the words that Matthew Kelly uses to describe our current culture in his book Rediscover Catholicism), faith has little or no influence on how they live.


Sacred Scripture teaches that "Faith is…the conviction of things not seen" (Hebrews 11:1) and that we are to "walk by faith and not by sight." (II Corinthians 5:7) Faith moves us to action for we know "faith…if it does not have works, is dead." (James 2:17). Faith, which comes from hearing the word of Christ (Romans 10:17), and is "the gift of God" (Ephesians 2:8), needs to be carefully cultivated. Faith is to form our lives into a compelling and clear witness to Jesus Christ.

In Hebrews 11, the New Testament "Hall of Faith", the author describes the cost of faith:

"Some were tortured and would not accept deliverance, in order to obtain a better resurrection. Others endured mockery, scourging, even chains and imprisonment. They were stoned, sawed in two, put to death at sword's point…The world was not worthy of them." (Hebrews 11:35b-38) The author ends this section by saying that these heroes of the faith did not obtain what was promised. They had to await Jesus Christ, victor of sin and death, who fulfills the promises of God and gives eternal life.

How precious is the gift of faith we share in today!!! I pray that we grow in every aspect of faith during this Holy Year. To that end, CRM is putting on a Day of Renewal called Facets of Faith. The date is Saturday, April 13. It will take place at St. Basil Parish in Brecksville. Some of the facets of faith that will be covered will be: faith as a relationship with Jesus Christ, the content of the faith and the charismatic gift of faith. Praise and worship will be led by Catholic lay evangelist and worship leader, Mr. Bill Richart of Macomb, Michigan. Other details are in this edition of The Flame and at www.crmweb.org.

Final thought: our culture opposes faith. St. Peter wrote this to a people whose faith was challenged:

In this you rejoice, although now for a little while you may have to suffer through various trials, so that the genuineness of your faith, more precious than gold that is perishable even though tested by fire, may prove to be for praise, glory and honor at the revelation of Jesus Christ. (I Peter 1:6-7)


Though our times make it harder to believe, it will also make our faith more genuine and strong. In the darkness of our times, may our faith be a beacon of light drawing others to Jesus.
Sincerely in Christ,

Fr. Bob Franco

PS Please pray fervently for the Holy Spirit to abundantly bless all our Cardinals as they elect a new Pope.