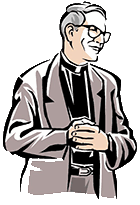 The Flame: March April 2012
Dear Readers of The Flame,
"I just feel so powerless…" If we are honest, and even if we never said it, all of us have felt this way. Sometimes we feel overwhelmed by circumstances beyond our control. Other times we lack the wisdom and courage to handle the situations we are thrown into. And finally, there are those moments we feel overwhelmed by our own weaknesses.

Jesus said, "You shall receive power when the Holy Spirit comes upon you…" (Acts 1:8) As charismatic Catholics we have tasted the power and life of the Holy Spirit (see Hebrews 6:4-5). However, though we know the power, we often feel the weakness. What's a charismatic to do? Our response needs to be one of faith. Faith is the switch that lets the power of the Holy Spirit move in and through us. Fr. Fio Mascarenas, a long time leader of the charismatic renewal in India, described the charismatic renewal as a "movement of faith." Faith is not only the content of our beliefs. It is a movement of the will to "step out" believing that the Holy Spirit will manifest himself as we trust Jesus Christ. Though this may feel contrary to our nature, it is truly how we have been created to live.


The original sin of the human race destroyed the power grid that connected us to God. Without God's life and power, we stumble about in weakness and spiritual darkness.

Jesus Christ is God's solution to reconnect us to God. Through Him, with Him and in Him we have a life with God our Father. We are given a new life, animated by the Holy Spirit. However, we need to make sure that we are connected and that the switch is on.

Sometimes the storms of life knock out the power. We need to get reconnected to Jesus, especially through the sacrament of reconciliation. Other times we simply need to throw the switch and make an act faith that the Holy Spirit is with us, empowering us to meet the challenge of the moment. Finally, our goal is to live in the power of the Spirit at all times!!! Through life of conscientious prayer and charity, we can influence the world for Christ in whatever circumstance we find ourselves in.

As we journey through Lent and approach the days in which we celebrate the dramatic events that restored the human race in Jesus Christ, let us seek to always stay connected to the Lord. May we live with the switch in the "On" position and bring the light of Jesus Christ to the world.

Finally, look over the upcoming events in this issue of The Flame. Besides the monthly charismatic Masses, there is a Festival of Praise, a Day of Renewal with Jim Murphy (Living in the Charisms of the Spirit) and our Quarterly Regional Diocesan Prayer Meeting.
Sincerely in Christ,

Fr. Bob Franco