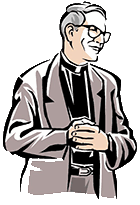 The Flame: July/August 2011
Dear Readers of The Flame,
During my sophomore year at The Ohio State University, my sociology professor assigned each student a project in which we needed to take a survey. My subject was the notion of hope. My thesis was that most people misunderstood hope as merely wishing. (For example, "I just hope I can pass my math test."). My survey indicated that my thesis was wrong. Most people's notion of hope was somewhat stronger than merely wishing for something. It may not have been the vibrant Christian virtue of hope. However, hope was not reduced to wishful thinking.

As Catholic Christians who have encountered Jesus in the power of the Holy Spirit, our lives are to radiate hope. Nothing can separate us from the love of God in Christ Jesus: neither anguish, distress, persecution, famine, nakedness, peril, sword, death, life, angels, principalities, present things, future things, powers, height or any other creature! (Romans 8:35-39) I think St. Paul ran out of possibilities that could perhaps dampen our hope in Jesus Christ.

And yet, our lives can become weighted down with the cares of this world. We are bombarded with an information stream that highlights the bad news of our world. Many people feel the tensions of the economic insecurity of our times. The media constantly allures us with false hopes rooted in the pursuit of pleasure and carefree living. All of these things and more dampen or squelch the vibrancy of our hope.

The conference for this year's charismatic conference is Jesus, Our Hope. I am excited simply by the talk titles of our speakers: A Sure Hope; For a Tree, There is Still Hope (Job 7:14); A Future Full of Hope (Jeremiah 29:11); Hope does not Disappoint (Romans 5:5); Signs of Hope in Difficult Times; Abounding in Hope by the Power of the Holy Spirit (Romans 15:13) and Rejoicing in Hope (Romans 12:12). These talks are in addition to the keynote address, Jesus, Our Hope. And the people who will be proclaiming these messages, Peter Herbeck, Mark Nimo and Renee Marazon, are persons of hope.

If you have not already, I strongly encourage you to signup for the 2011 CRM charismatic conference, Jesus, Our Hope. As usual, besides talks, there will be vibrant times of praise and worship, the celebration of the Eucharist and an opportunity for the Sacrament of Penance, Adoration of the Blessed Sacrament, and opportunities for healing prayer, as well as food and fellowship.

As Catholic Christians we are to be the bearers of real hope in Jesus Christ to a world in need of that hope. Most people have a sense that this hope is not wishful notion based on a personal agenda. However, many have not discovered that Christian hope is "an anchor of the soul, sure and firm which reaches into the interior behind the veil, where Jesus has entered as our forerunner…" (Hebrews 6:18-20). I pray that this summer conference be an event that propels us to an ever deepening life in the Spirit. we want to make our hope in Jesus Christ tangible to the lost and weary of the world.

Sincerely in Christ,

Fr. Bob Franco