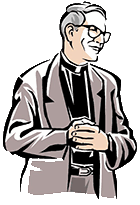 The Flame: July/August 2010
Dear Readers of The Flame,
Jesus said, The lamp of the body is the eye. If your eye is sound, your whole body will be filled with light; but if your eye is bad, your whole body will be in darkness. And if your light is darkness, how great will the darkness be. (Matthew 6:22-23) Jesus is saying that what we lay our eyes on will somewhat form our interior person. If we set our eyes and our senses on the things of the world, we will become worldly. If we set our eyes and ears on the talking heads of news television we may become cynical, angry or discouraged.
If we set our eyes and hopes on the world of sports we will often be distracted and (if you live in Cleveland) disappointed. If we set our eyes upon our cares and concerns, we may become filled with self pity or self righteousness (or both!)
Things will be doubly bad if we believe that how we view life is how life really is. If we think that our darkened way of looking at the world is the way the world really is, then we are in real darkness. It is hard to enlighten someone who thinks they see life as it really is. All this is a lead-in to encourage each of you to attend the 28th Annual Catholic Charismatic Conference Clothed with Power, to be held at Magnificat High School in Rocky River. All of us have seen and heard too much of this world. Our perspective on life is somewhat skewed. We take seriously things that are frivolous. At times, we treat lightly the things our Lord is serious about.
Mike was recently telling me about the first charismatic conference he attended at Notre Dame in South Bend in 1982. He heard the talks and participated in the times of prayer and enjoyed them very much. However, what really changed his perspective on life was a "chance encounter" with John. Mike and John were from the same parish. However, neither knew that the other was going to Notre Dame for the weekend. It would be John that introduced Mike to their local prayer community. Mike brought along his wife Pat. As God graced them with children, Mike and Pat raised them with the expectation of living the faith in the Catholic Church. Many of them would go on to attend Franciscan University of Steubenville.
We do not know what would have happened if Mike had not attended that conference. Perhaps God would have found another way to enlighten Mike and his family. However, we do know that Mike did attend that conference twenty-eight years ago and the trajectory of his life and family were changed for Christ and the Church.
If you have not registered for Clothed with Power, I encourage you to do so ASAP. Jesus Christ wants to minister to our inner person. Enlightened by the Lord and the gift of His Spirit, we will be clothed with power and directed in new and wonderful ways.
In Christ,

Fr. Bob Franco