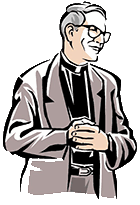 The Flame: July/August 2009
Dear Readers of The Flame,
Luke 7:36-50 recounts the story of a sinful woman who crashed a luncheon put on by Simon the Pharisee. It was a heart revealing event. Simon the Pharisee's heart was judgmental. "If this man were a prophet he would know who and what sort of woman this is who is touching him, that she is a sinner." He judged the woman who was touching Jesus as far from God and he judged Jesus as less than a prophet.

The story depicted the heart of Jesus as one of truth and mercy. Jesus confronted Simon with the truth. His story about indebtedness ("one owed fifty…the other owed five hundred…both were forgiven…who would love more?") as well as his mention of Simon's lack of hospitality, smote the conscience of Simon.
However, Jesus' words of forgiveness for the woman reveal his heart of mercy toward sinners.

Finally, the story revealed the heart of the woman. Her heart was both contrite and bold. Her tears and posture demonstrated her humility. Her boldness was reflected in that she sought out Jesus no matter what. No obstacle would get in the way of her encounter with Jesus. The year's conference theme is "Seek First God's Kingdom." God really does reign. Jesus is the Lord. "All power in heaven and earth has been given to me." (Matthew 28:19) The real question is, "Does he reign over me? Am I seeking first God's kingdom?"

Despite her background, or because of it, the woman in the story was seeking God's Kingdom above all in the person of Jesus Christ.

The bible urges us often to seek.
"…seek and you shall find…" (Matthew 7:7 & Luke 11:9)
"…if you receive my words…if you seek it like silver and search for it as hidden treasure, then you will understand the fear of the Lord…" (Proverbs 2:1-6)
"Strive eagerly for the greatest spiritual gifts…Pursue love, but strive eagerly for the spiritual gifts, above all that you may prophesy…" (I Corinthians 12:31a, 14:1)
If we want answers to prayer, if we want to be wise, if we want to exercise spiritual gifts, we need to seek and strive for these things.

I strongly encourage you to come to this year's conference. Sr. Sarah Burdick, a member of Sr. Ann Shields' community the Servants of God's Love, will be our featured speaker. Also presenting will be Frs. Pete Colletti and Tom Dunphy, Deacon Dave Pecot, Bishop Quinn and yours truly. As we come together to seek the Lord, his kingdom will be manifest to us. We will encounter the Lord in wisdom and truth, mercy and love, power and grace.
Sincerely in Christ,

Fr. Bob Franco