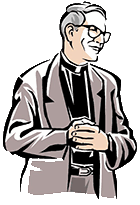 The Flame: July & August, 2007
Dear Readers of The Flame,
I need to plan my funeral. Trust me, I am in good health as far as I know. However, the diocese asks that priests have a plan for their funeral on hand at the chancellor's office.
Though I have not yet prepared my funeral plan, I have given it some thought. For a closing song I would like "How Can I Keep From Singing." Here is the first verse and the refrain:
"My life flows on in endless song above earth's lamentation. I hear the real though far off hymn that hails a new creation."
"No storm can shake my inmost calm, while to that Rock I'm clinging. Since Love is Lord of heaven and earth, how can I keep from singing?" Attributed to Robert Lowery; music: Quaker Hymn attributed to Robert Lowery Taken from Breaking Bread 2007 #444, Oregon Catholic Press

Our world is filled with a variety of storms. There are storms of war and famine, of terrorism and hate, of deceit and suspicion. If we are occupied with these things more than the things of God, peace will flee from our souls.
However, if we cling to the Rock-Jesus Christ our Lord-we will have peace.

As the psalmist says:
God is our refuge and strength, a helper close at hand, in time of distress, so we shall not fear though the earth should rock, though the mountains fall into the depths of the sea, even though its waters rage and foam, even though the mountains be shaken by its waves. The Lord of hosts is with us: the God of Jacob is our stronghold. (Psalm 46:2-4)

We live in a media saturated world. News that may or may not have made the newspaper is instantly and dramatically (and, I might add, selectively) broadcast all over the world. This can impact our thinking. We may be tempted to yield to discouragement. More than ever we need to pray and fill our minds with the light of truth that is found in Jesus Christ and the Church.
I believe that in the midst of our tragedy-weary world, God is about "making all things new." On July 20-22, Catholic Renewal Ministries invites everyone (and we mean EVERYONE!) to Magnificat High School for our 25th annual conference. The theme of our Jubilee conference is "I Make All Things New." What a wonderful and timely message! The events that characterized the unraveling of the world through war, terrorism and other tragedies, are but birth pangs to a new creation.
Just a note of clarification about the dates: Our conference will be at Magnificat on Friday evening and all day Saturday. The next day, Sunday, July 22, CRM will be holding a Jubilee mass at St. Teresa of Avila Parish. This mass will celebrate both the 25th anniversary of charismatic conferences, as well as my 25th Jubilee as a priest. Conference registration is not required for the mass. This Sunday Eucharist will also be our traveling charismatic mass for the month of July.
Whether or not we are thinking of planning our funeral, let us always and in all ways cling to Jesus Christ or Rock and know his peace in our hearts.
Sincerely in Christ
Fr. Bob Franco
PS: Following July, our next traveling mass will be Friday, August 24 at 7:30 PM at St. Jude Parish (590 Poplar St., Elyria). All are welcome.
PPS: See my blurb on a pilgrimage to Rome and Assisi in October.