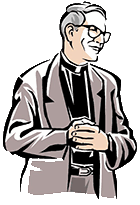 The Flame: July-August 2020
Dear Brothers and Sisters,
The headline on page 5 of the June 17 Elyria Chronicle Telegram read, Poll: Americans are unhappiest they've been in 50 years.
The article went on to describe a poll that is taken every two years that measures to some degree "happiness". Taken at the end of May, the poll highlighted the effects that the Coronavirus has on our psyche. The social distancing and uncertainty that have come with the pandemic have taken a toll on how many people view life. Here are some of the poll's findings:
2020 2018
People who say they are very happy: 14% 31%
People who often/sometimes feel isolated: 50% 23%
People who believe in an improved standard of living in 25 years: 42% 57%

On top of the coronavirus anxieties, the death of George Floyd has led to the uncovering of the issue of racism and racial violence in our nation, adding to the fears and frustrations of many people.
As Christians we are called to the blessedness of the beatitudes.
We are to live in the peace of Jesus Christ, a peace that Jesus taught is "not as the world gives." How do we maintain this blessedness and peace in these anxious and stressful times?
Jesus ended the Sermon on the Mount with a little parable:
Everyone who listens to these words of mine and acts on them will be like a wise man who built his house on rock. The rain fell, the floods came, and the winds blew and buffeted the house. But it did not collapse; it had been set solidly on rock. And everyone who listens to these words of mine but does not act on them will be like a fool who built his house on sand. The rain fell, the floods came, and the winds blew and buffeted the house. And it collapsed and was completely ruined. (Matthew 7:24-27)
The point of the parable is simple.
It is not enough to listen to the words of Jesus. We must choose to live by them. They are to form our character and values. The words of Jesus in the Sermon on the Mount direct us to pray, fast, give alms; we are to be chaste, generous, humble and forgiving. We are to do this with a sense of mission. In that Sermon, Jesus called us the salt of the earth and the light of the world.
I was trying to think of a tidy way of summarizing this life of discipleship that Jesus outlined in the Sermon on the Mount.
Then I remembered a talk that I heard Bob Edwards, former Director of the St. Joseph Christian Life Center, often gave as he concluded the Life in the Spirit Seminar weekends held at the retreat house. It was a talk on growing in the Lord. However, it was not the typical "toolbox" type of talk on growth that describes the habits of a disciple: prayer, scripture, service and community.
Bob's talk highlighted four qualities that a disciple of Jesus Christ needed to weave into one's walk with the Lord.
He said that a disciple must be a sinner, fool, child, and a lover. (Actually, I couldn't remember one of the four qualities-that a disciple was a sinner! I was hoping someone may have put Bob's talking points online. Though my search for the talk was unsuccessful I uncovered something better. Much to my surprise I discovered A Disciple's Tale: A Memoir by Robert P. Edwards. It turns out that Bob published an autobiography of sorts. I purchased it and discovered the four points of a disciple in the appendix in a quote that Bob Edwards attributes to Fr Mike Scanlon TOR.)
In some ways, these qualities challenge us to live different from our world.
We do not like to think of ourselves as a sinner, especially after turning to the Lord. We want to show the world that we have it all together. However, if we do not recognize our sins and shortcomings on a daily basis, pride, defensiveness and self-justification easily darkens our hearts. To be a fool? No one wants to be thought of as a fool. Yet St. Paul said, Let no one deceive himself. If anyone among you considers himself wise in this age, let him become a fool so as to become wise. (I Corinthians 3:18). And to be a child? Aren't we supposed to grow up and be independent? Jesus said, Amen, I say to you, unless you turn and become like children, you will not enter the kingdom of heaven. (Matthew 18:3). And finally, to be a lover. Because we often think of love in terms of romance, we may wonder at the wisdom of this. And yet we know that we need passion to follow Jesus. The Great Commandment is to love the Lord your God with all we have and our neighbor as ourselves. (Luke 10:25-37).
Jesus Christ is the source of our peace, joy and happiness at all times, even as we slowly crawl out of our coronavirus caves. For
those whose existence has been shaken by this time of isolation and uncertainty, let us be the people Jesus calls us to be: salt for the earth and light for the world. Our happiness flows from the unchanging God. May this happiness be so evident in us that anxious and disgruntled people discover the source of true happiness and peace, Jesus Christ!
In Christ,
Fr. Bob Franco
Bishop's Delegate to Catholic Renewal Ministries


PS: I hope to see you at our Deacon Ralph Poyo miniconference at the St. Peter Parish in North Ridgeville on September 18-19, 2020 as well as at one of our outdoor Festival of Praise gatherings.