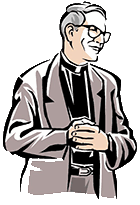 The Flame: July/August 2019
Dear Brothers and Sisters,
The word salvation comes from the Latin word salus, which means health. It is same root for the word salve, which is an ointment that soothes and heals. Perhaps the most popular type of salve today is the triple antibiotic ointment used to promote healing for common cuts and scrapes. No medicine cabinet is complete without it!
Jesus came to bring us salvation. Not a healing balm for minor cuts and scratches. Jesus came save us! The Catechism of the Catholic Church reminds us that the name of Jesus in Hebrew means "God saves." (CCC 430). The catechism also teaches that:
His whole life is a mystery of redemption. Redemption comes to us above all through the blood of his cross, but this mystery is at work throughout Christ's entire life:
already in his Incarnation through which by becoming poor he enriches us with his poverty
In his hidden life which by his submission atones for our disobedience
in his word which purifies its hearers;
in his healings and exorcisms by which "he took our infirmities and bore our diseases;
and in his Resurrection by which he justifies us. (CCC #517)
His saving power extends to every aspect of life here and now, as well as eternally. But just how does this health and salvation come to us today? The saving grace of Jesus Christ comes to us in many ways.
The first way Jesus' saving power comes to us is through the sacraments. These outward signs instituted by Christ give us grace. They are sure and true channels based on the commands of Jesus Christ and the practices of the apostolic Church. For example, baptism brings forgiveness of sins, adoption as God's child and the Holy Spirit. Jesus commanded us to baptize (Matthew 28:19-20, Mark 16:15-16) and spoke of it as the source of a new birth. (John 3:3-8) For sins committed after baptism, Jesus gave us the Sacrament of Penance (John 20:21-23) to bring the salve of his forgiveness into our souls in a fresh manner. And so it is with all the sacraments. Received with faith, the sacraments bring the salvation of Jesus Christ to individuals so that they would be healed and equipped to live as the Father's children.
However, the saving power of God also comes to us in other ways. Vatican II put it this way:
It is not only through the sacraments and the ministries of the Church that the Holy Spirit sanctifies and leads the people of God and enriches it with virtues, but, "allotting his gifts to everyone according as He wills" (I Corinthians 12:11b) He distributes special graces among the faithful of every rank. By these gifts He makes them fit and ready to undertake the various tasks and offices which contribute toward the renewal and building up of the Church, according to the words of the Apostle: "The manifestation of the Spirit is given to everyone for profit." (I Corinthians 12:7) These charisms, whether they be the more outstanding or the more simple and widely diffused, are to be received with thanksgiving and consolation for they are perfectly suited to and useful for the needs of the Church. Extraordinary gifts are not to be sought after, nor are the fruits of apostolic labor to be presumptuously expected from their use; but judgment as to their genuinity and proper use belongs to those who are appointed leaders in the Church, to whose special competence it belongs, not indeed to extinguish the Spirit, but to test all things and hold fast to that which is good. (I Thessalonians 5:21) Lumen Gentium 12§2
The charisms, the gifts of the Holy Spirit, are given to individuals for the good of the Church. Though this text from Vatican II says that "Extraordinary gifts are not to be sought after," this must be balanced out with St. Paul's words, "Strive eagerly for the greatest spiritual gifts." (I Corinthians 12:31a) Our seeking of spiritual gifts must not be rash. We cannot demand a gift from God. However, we can humbly pray, not presumptuously but confidently, that we or someone in Christ's Body receive these gifts that make known in tangible ways the power and compassion of the Father. We want people to experience the saving power of God through charisms as well as the sacraments.
We are privileged in our time to see a rebirth of these charisms of the Holy Spirit. Many people are skeptical about religion in general. Other people are looking for fulfillment in the things of the world. Their predispositions make it difficult for them to hear the saving message of Jesus Christ. Charisms, especially healing and words of knowledge, can break through these barriers. When they experience "salve" that these gifts of the Spirit bring, they may repent and believe the gospel. As St. Paul said,
But if everyone is prophesying, and an unbeliever or uninstructed person should come in, he will be convinced by everyone and judged by everyone, and the secrets of his heart will be disclosed, and so he will fall down and worship God, declaring, "God is really in your midst." (I Corinthians 14:24-25)
The annual charismatic conference for the Diocese of Cleveland, Rise and Be Healed, will be July 12-13 at Magnificat High School. An abundance of information about the conference is in this issue of The Flame. I encourage you to attend and bring the lost, the broken and the skeptical. The Lord loves us all and comes with salvation to bring us healing and new life.
In Christ,
Fr. Bob Franco
Bishop's Delegate to Catholic Renewal Ministries