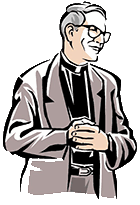 The Flame: July/August 2017
Dear Readers of The Flame,

I recently attended a conference put on by ChristLife, a Catholic Ministry of Evangelization that equips Catholic parishes to put on a series of courses that bring people to the Lord. The first course is called Discover Christ. It is akin to the very popular Alpha program. The second and third courses are called Following Christ and Sharing Christ. The very titles of these courses highlight the path to missionary discipleship. After meeting Christ, we walk in his footsteps and share Him with others.

I was especially impressed with the taste we had of the Following Christ course. The initial video began by showing a cruise ship. The captain and staff were there happily greeting the passengers, who boarded the ship to lively cruising music. During the cruise passengers were spoiled with their favorite food and drink. They were entertained. And if there were any problems, the captain and staff attended to them with special care.

The second part of the video showed a battle ship. The captain on this ship took orders from a higher command. There were no passengers. Everyone was part of the crew. Each person had his or her own role and each person was dependent on each other. This ship had a mission and everyone was expected to contribute their time, talents and efforts in order to fulfill this objective. The background music was inspirational, almost patriotic.

The cruise ship/battleship images contrast the differing mentalities of people have about the Church. For some people the Church is more like cruise ship. They pay for their ticket and expect to be served and entertained. In actuality, the Church is more like the battleship. Our leaders are to take us into battle. All crew members are vitally important. And as Christ came, not to be served but to serve others, so each member on the battleship serves a mission much bigger than itself.

I often ponder why people who meet the Lord, even those baptized in the Holy Spirit, never seem to get very far in their walk with Jesus. Part of the reason may be that they thought they got on a cruise boat and not a battleship. Anyone can go on a cruise ship. If all we seek is comfort and entertainment - well, anyone can do that. Only those who are trained, mission oriented and equipped can get on the battleship.


St. Paul encouraged Timothy:
Bear your share of hardship along with me like a good soldier of Christ Jesus. To satisfy the one who recruited him, a soldier does not become entangled in the business affairs of life. (II Timothy 2:3-4)
Disciples of Jesus Christ direct their time, talents and treasure to the Lord and his mission. By habitually praying, studying, sharing with their brothers and sisters in Christ and serving the mission of the Lord these soldiers of Christ become effective for the Lord.

During this Year of Jubilee for the charismatic renewal let us pray that more and more of our brothers and sisters in Christ embrace the disciplines of discipleship. By redirecting our resources of time and talent away from personal entertainment and toward the mission of the Lord we will become effective in living out the gospel and bringing others to Him.

I sincerely hope to see you at our 35th annual conference this summer, Fount of Life, Fire of Love. It is only when we are empowered and refreshed by the Holy Spirit that we can live fully as disciples of Jesus Christ. Hope to see you and the new people you bring with you!



Sincerely in Christ,
Fr. Bob Franco


Bishop's Delegate to Catholic Renewal Ministries