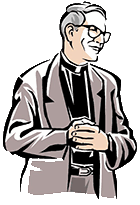 The Flame: July/August 2016
Dear Readers of The Flame,
Almost 20 years ago CRM brought a speaker to our annual conference named Fr. James Goode. He was a dynamic African-American priest who preached with power and sometimes broke into dance.

The name of his parish in the San Francisco area was St. Paul of the Shipwreck. It was founded by immigrants from the island of Malta. Fr. Goode mentioned that many people in the neighborhood simply referred to their parish as Shipwreck.


The event that inspired the name of this parish came straight from the bible, Acts 27. This chapter describes St. Paul's perilous journey to Rome. Despite the Paul's warnings to the captain and crew ("Men, I can see that this voyage will result in severe damage and heavy loss not only to the cargo and ship, but also to our lives." Verse 10), his ship set sail late in the season. A severe storm struck. After a couple of weeks at sea without direction or hope, the ship approached an island unknown to them. The Lord then assured Paul that the people would be saved, though the ship and its contents would be lost. And so it happened. They discovered that the island was Malta. And through God's providence all the captain, crew and prisoners (including Paul) landed safely. That winter, St. Paul evangelized the people of Malta. With the coming of spring, Paul was shipped off to Rome.

Isn't our God amazing! God can turn even the hard - headed decisions of people, storms and shipwrecks into opportunities to proclaim the gospel and fulfill his plan! I think we need to remember this.
We live in confusing and stressful times. The erosion of Christian culture, the state of U.S. politics, the tensions among nations and the plots of terrorists can sap our hope. What is to be our response?

The early church knew what it was like to live in stressful and uncertain times. Their response was summarized by St. Peter.
The end of all things is at hand. Therefore, be serious and sober for prayers. Above all, let your love for one another be intense, because love covers a multitude of sins. Be hospitable to one another without complaining. As each one has received a gift, use it to serve one another as good stewards of God's varied grace. (I Pt 4:7-10)
St. Peter encouraged his flock to take a sober approach to life and to pray. However, he did not advocate burying one's head in the sand or fleeing to a "safer" place. Instead he encouraged mutual love, hospitality without complaining and the exercise of gifts for the building up Christ's body the Church. They were to live the Christian life to its fullest, knowing that God was in charge. In a sense, St. Peter told his flock, "You have been taught to pray…You have received the command to love…you have been given gifts to build up the body of Christ. Do not fret that the end of all things is at hand. Just do it!" St. Peter and St. Paul did not fret about the big plan of God. They knew it, lived in the light of it and proclaimed it to the world. They understood that God's plans unfold, not unravel. And even when it seemed that God's plans were shipwrecked, they were fulfilled in unexpected ways.

To conclude these reflections, I want to invite you to Catholic Renewal Ministries' annual conference. Mr. Jim Murphy, Mr. Paco Gavrilides and others will proclaim God's big plan — MERCY— and encourage us to live this plan in the power of the Holy Spirit. The conference will be a time of joyful prayer, hospitality and mutual love, anointed teaching and preaching, and the exercise of the gifts of the Holy Spirit. The aim of the conference will be to equip us to live our faith in our times for the glory of God and salvation of souls. I cannot think of a better way to spend a Friday evening and Saturday! Further details are in this edition of the Flame as well as 2016 annual conference page.

Fr. Bob Franco


Bishop's Delegate to Catholic Renewal Ministries