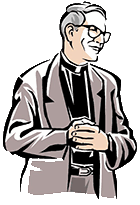 The Flame: July/August 2015
Dear Readers of The Flame,
The Fortnight of Freedom began on June 21. On that day the Church honors two martyrs for religious freedom, Sts. John Fisher and Thomas More. Both were martyred by King Henry VIII during the 16th Century. They stood up to the King when he announced that he was the head of the Church in England. It wasn't that they deliberately sought to be treasonous. Thomas More was the Chancellor of England, the King's right hand man. When he was led out to die by beheading, Thomas More proclaimed, "I die the King's good servant, but God's first."

Why do we have these special two weeks of prayer for religious freedom? Much in our culture has changed. Originally, people came to America for religious freedom. When our Constitution was put together, religious freedom was one of the five freedoms guaranteed in the First Amendment (the other four being freedom of speech, of the press, of assembly and of petition).

Freedom of religion meant the free practice of religion. Today, many people seem to interpret this freedom as a freedom from religion. Many want to legalize same sex "marriage" and marijuana, while curtailing the Church's freedom to teach, practice and proclaim its manner of life given to her by Jesus Christ. Our culture seems to say, "Do what you want inside your church walls. However, in public life you have to play by our rules." Pope Francis has a different take on religious liberty. In addressing participants at a conference entitled "International Religious Freedom and the Global Clash of Values" on June 14, 2014, the Pope said:
"Religious freedom is not only that of private thought or worship. It is the liberty to live, both privately and publicly, according to the ethical principles resulting from found truth."
Worship may be a private thing. Religion is a public thing. This tension has always been part of the life of a Catholic Christian. This is from "A Letter to Diognetus" from the latter part of the second century.
"Christians are indistinguishable from other men either by nationality, language or customs. They do not inhabit separate cities of their own, or speak a strange dialect or follow some outlandish way of life. Their teaching is not based upon reveries inspired by the curiosity of men. Unlike some other people, they champion no purely human doctrine. With regard to dress, food and manner of life in general, they follow the customs of whatever city they happen to be living in, whether it is Greek or foreign. And yet there is something extraordinary about their lives. They live in their own countries as though they were only passing through. They play their full role as citizens, but labor under all the disabilities of aliens. Any country can be their homeland, but for them their home land, whatever it may be, is a foreign country. Like others, they marry and have children, but they do not expose them. They share their meals, but not their wives. They live in the flesh, but they are not governed by the desires of the flesh. They pass their days upon earth, but they are citizens of heaven. Obedient to the laws, they yet live on a level that transcends the law."
St. Paul wrote, "Where the Spirit of the Lord is, there is freedom." (II Corinthians 3:17) He was speaking here of the interior freedom given us by the Holy Spirit. The liberty that the Holy Spirit brings us is not merely freedom from external constraints. It is an interior freedom that leads to maturity. We bear the fruit of the Holy Spirit (love, joy, peace, patience et cetera, Galatians 5:22-23). We seek Christ. We strive to love God and neighbor. We know that life is not about us. We desire to honor the Lord and serve each other. In doing so, we seek to build a culture based on truth, goodness and beauty. This is what liberty is for.

I encourage you to participate in the upcoming conference sponsored by Catholic Renewal Ministries entitled, "Father Make Us One." We, as Catholic Christians, joining with Mary and the Apostles in the Upper Room, praying in one accord (Acts 1:20), seek a fresh outpouring of the Holy Spirit. For it is only by the Holy Spirit that we have the courage, wisdom and genuine charity to live and practice our faith in a free manner. Please join us on Friday, July 17 and Saturday, July 18 at Magnificat High School to be built up and encouraged by enthusiastic praise and worship, edifying and challenging talks, opportunities for sacramental encounters with the Lord (Adoration, Mass, Confession) and wonderful fellowship. See the information in this issue of The Flame as well as on line at www.crmweb.org.

True religious freedom comes from the Holy Spirit - the Spirit of Truth who will "convict the world in regard to sin and righteousness and condemnation." (John 16:8) The Holy Spirit will guide us into all truth. (John 16:13) Come, Holy Spirit!

In Christ,
Fr. Bob Franco
Bishop's Delegate to Catholic Renewal Ministries

PS: I hope to see you at the Pentecost Mass this year at St. Mary Parish in Bedford, where we will be praying with those receiving Baptism in the Spirit before our Mass. For directions, simply google 300 Union St., Bedford 44146. Come Holy Spirit, and renew the face of the earth!