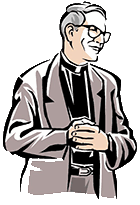 The Flame: January/February 2011
Dear Readers of The Flame,
What is in store for us in 2011? Seeing into the future is not one of my gifts. There have been rare occurrences when God has lifted the veil and given us a glimpse of things to come. I think of the messages of Fatima. Our Lady warned the world through her words to Francisco, Jacinta and Lucia of the rise of Communism and a second and greater war in the 20th century.

However, the Lord would normally have us heed the messages given in the Sacred Scriptures, adhering to the way of life He gives us through the Church. One message given to us by our Lord and reiterated by St. Paul, St. Peter and St. John the Evangelist can be summarized by the phrase, "Stay awake!"

(Matthew 24:43-44;Romans13:11; I Thessalonians 5:6; I Peter 1:13, Revelation 3:2). The fallen world in which we live can have an anesthetizing effect on us. If we do not actively seek to stay in touch with the Lord we become spiritually drowsy, more intent on this world's comforts instead of Jesus Christ who is the real Comforter!


Another timeless exhortation given us by the Lord is, "Be holy!" This theme is in both the Old and New Testaments. Perhaps the most sobering expression of this theme is found in Hebrews 12:14, "Strive for peace with all men and for the holiness without which no one will see the Lord." Our ultimate destiny is to see the Lord. The path there involves becoming holy. How we reflect the holiness of the Lord differs according to our vocation, state in life, personality and gifting by the Holy Spirit. However, we are to somehow demonstrate holiness by the way we live.

One final word: "Serve!" When the disciples were arguing about who was the greatest, Jesus said, "…whoever would be great among you must be your servant, and whoever would be first among you must be slave of all. For the Son of man also came not to be served but to serve, and to give his life as a ransom for many." (Mark 10:43b-45) Service has always been the outstanding characteristic of Christians who stayed awake and grew in holiness. Life was about blessing others through the corporal and spiritual works of mercy.

So what is in store for us in 2011? I have no idea. I do know that most of us will have little influence over the economic, political and cultural situations in which we live. What we can control is our relationship with God. If we do the things we ought to do-stay awake, grow in holiness and serve-2011 will be a great year.

Jesus said, "I have said this to you, that in me you may have peace. In the world you have tribulation; but be of good cheer, I have overcome the world." (John 16:33) Being of "good cheer" let us embrace 2011. Our "little influence" will have a great effect. We will "shine like the brightness of the firmament" and "turn many to righteousness." (Daniel 12:3)
Sincerely in Christ,

Fr. Bob Franco

PS.
Warm your winter chill in the fire of the Holy Spirit. Catholic Renewal Ministries has planned January and February Traveling Charismatic Masses. Click for more information