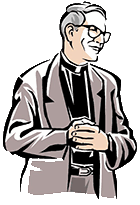 The Flame: January/February2009
Dear Readers of The Flame,
The charismatic renewal has had an interesting relationship with ecumenism. When the modern charismatic renewal first appeared on the scene, its ecumenical dimension was more pronounced. Preachers and teachers from a variety of charismatic churches regularly presented at Catholic charismatic conferences in the 1970's and early 80's. The common experience of baptism in the Holy Spirit created a marvelous platform to pray and evangelize together.
However, as time marched on, the ecumenical dimension of the Catholic charismatic renewal began to wane. There were a number of reasons for this. First, the Lord raised up preachers and teachers, both lay and clergy, from within the renewal to shepherd and feed Catholic charismatics. Secondly, some Catholic charismatics became more enamored with the preaching and personalities of some of the non-Catholic charismatic teachers and left the Church. This made conference planners leery of having non-Catholic speakers. Also Catholic charismatic renewal leaders began to realize that many Catholics had shallow roots in the faith. Some were easily led out of the Church and into other Christian traditions.
Finally, some Catholic charismatics began to intuitively understand that real ecumenism was not the same thing as "sloppy agape". "Sloppy agape" is when charismatics from various backgrounds get together for prayer, teaching and fellowship, presuming they are of the same mind. A more severe form of "sloppy agape" can be defined as charismatics from a variety of traditions who know that they are not on the same page, and yet use an ecumenical venue to try to proselytize others into their camp.
I believe that baptism in the Spirit is an ecumenical grace in two ways. First, the grace of baptism in the Spirit has spilled into most Christian Churches and traditions: Catholic, Orthodox, Protestant, Assembly of God and other traditions. Secondly, this experience of the Holy Spirit seems to plant in one's heart the desire to see Jesus' prayer answered: "that they may be one." (John 17:22)
So how do we charismatics become part of the answer to this prayer? We need to realize that unity needs to happen on many levels: doctrine, leadership, prayer, service and relationships that truly cherish each other. On the grassroots level, the charismatic renewal is not equipped to dialogue about doctrine and models of leadership. However, the charismatic renewal can make a significant contribution in the areas of prayer, service and mutual respect. Our shared charismatic experience is the common ground for this kind of ecumenism to take place.
In gatherings that are informally ecumenical, charity and mutual respect are the order of the day. Other gatherings are intentionally ecumenical. In addition to charity, these gatherings will need some guidelines so that everyone is on the same page.
Dave Jesenovec, a charismatic Catholic, will be hosting an ecumenical prayer gathering on Saturday, January 24 at 7:30 PM at the Vineyard Community Church, 1928 E. 300th St. in Wickliffe. Dave chose this date because it is during the annual week of Prayer for Christian Unity. He has prepared some guidelines for this prayer time. The focus of the group will be to love one another and pray for unity, as well as for other local and global needs. Part of the prayer will be formal, part of it will be spontaneous, and part of it will include contemporary worship music.
All of it will glorify God if we love one another. God willing and the snow isn't too deep, I will be joining Dave and his wife Rose Anne, for this time of prayer. I want to invite you also. The more unified the Church, the more Jesus will be exalted.
Sincerely in Christ,

Fr. Bob Franco
PS: This months' charismatic mass is on Friday, January 23 at 7:30 PM in Twinsburg's Sts. Cosmas and Damian Parish.
Next month's charismatic mass will be on Friday, February 20 at 7:30 PM at St. Hilary Parish in Fairlawn. All are welcome to both of these masses.
If you are interested in hosting a charismatic mass this year, please give me a call at 440-934-4227. These traveling masses are really pretty simple events. Normally, the New Christian Minstrels lead the praise time before the mass. The Healing Team of Catholic Renewal Ministries prays with people after the masses.