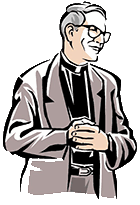 The Flame: January-February 2021
Dear Brothers and Sisters,
Watch carefully then how you live, not as foolish persons, but as wise, making the most of the opportunity, because the days are evil. (Ephesians 5:15-16)
By the reports available as I write this article, vaccines for the coronavirus should be available in the early part of this year.
The hope is that a vaccine will bring a greater sense of normalcy to the world.
And that will be none too soon.
The surge in coronavirus cases has forced us to again be very mindful of wearing masks, keeping socially distant and washing our hands. The surge changed the way many people celebrated Thanksgiving and Christmas. People long for the freer interaction with family and friends again.
The human tendency during this pandemic is to become anxious, impatient and complain.
St. Paul wrote to those in Ephesus during days he said were "evil" and exhorted them to wisely make "the most of the opportunity." Opportunity? Where did St. Paul see opportunity? We know that there was a persecution of Christians in Ephesus (see Acts 19). Perhaps the opportunity was simply boldly living the faith amid those kinds of trials. I do believe we need to see the opportunities during our own evil days. What are the opportunities that we can seize upon during these final months (we pray) of this pandemic?
Two things happened to me when the pandemic hit in late winter of 2020.
First, I became a bit more anxious. I found myself sifting through a variety of financial advisements, human resource regulations and safety protocols issued by the Diocese of Cleveland. On the flip side, I also found that I had some additional time to pray. And so I did pray and even added some study time to the schedule. Though this was not a perfect cure for anxiety, connecting more deeply with the Lord certainly helped me grow in peace. I also found myself getting to bed earlier. This too was a healthy thing. I have been able to maintain some of these practices even as some parts of our society moved toward a sense of normalcy.

I also found new opportunities to appreciate nature.
I began a twenty minute Rosary walk after my morning prayer time. On most days I would walk through my parish cemetery for 20 minutes praying the Rosary. I was able to see the budding forth of spring, the maturation of summer and the slow dormancy of fall in the trees and flowers of our parish property. I listened to the birds chirping and the rooster crowing across the street announcing the rising day. I watched the shifting of sunrise and sunset through the seasons. As Louis Armstrong so beautifully sang,
What a Wonderful World.
I have also tried to grow in my appreciation of other people.
There were many of my employees at the parish who worked through the pandemic. Teachers had to learn to run a virtual classroom in a matter of days and now (as of the time of this writing) face the threat of coronavirus on a daily basis by teaching in a live format. (Thank God no one on our school staff has yet to catch covid-19.) My parish secretary and maintenance team have soldiered on, serving God's people with cheerfulness.
I have also explored new ways to proclaim the gospel.
I have run a number of livestream bible studies. Our parish mission was both live and livestreamed. (Deacon Poyo was a great blessing to St. Peter Parish!) Many parish meetings have been conducted through the Zoom online meeting platform.
Which brings me to this final point.
The General Service Committee and I have longed to find ways to minister amid this pandemic. Though our conference was cancelled, we were able to host six outdoor Festival of Praise events this summer and early fall. However, with the weather as it is in northern Ohio during winter months, outdoor ministry events are pretty much out of the picture.
Beginning in January of 2021 I will be hosting a program through the Zoom format called The Faithful Discipleship series.
This will be a 75 minute online meeting twice a month with the goal of deepen our walk with Jesus Christ in the power of the Holy Spirit. I have broken down the topics into four meeting modules. The first of these modules, entitled
Discipleship: The Mandate and Models
, will focus on the basics of discipleship. Future modules will include:
Internal Liberty, The Fruit of the Holy Spirit, Spiritual Gifts, and Movements and Church Structure.
Each session will begin with a time of praise and worship.
I have been a part of these Zoom worship sessions and they can "work" if everyone follows the same rules. After the praise time, there will be a teaching on the topic of the evening. This will be followed by a time of discussion in small groups. (Zoom allows "breakout rooms" within a larger meeting.) Each session will then conclude with some announcements to the large group and a time of closing prayer.
We will meet twice a month (the second and fourth Wednesday) at 7:00 PM beginning January 13th. You will need a computer with video and audio capabilities.
Some of the logistics will be worked out at our first meeting.
If you are interested in being part of Faithful Discipleship series, please email me at frbobfranco@gmail.com. I will send you login instructions and the link, and we will begin this adventure.
In the Book of Esther we hear the often quoted words of Mordecai to Queen Esther, Who knows but that it was for a time like this…?
(Esther 4:14b) Perhaps it is only through a pandemic that we could learn certain things: about ourselves, God, others, our world and how to minister to others in new ways. Please join me in The Faithful Discipleship Series. We want to be more "for the Lord" at the end of this pandemic than when we began it.
In Christ,
Fr. Bob Franco