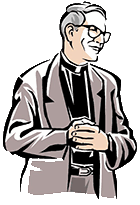 The Flame: January-February 2020
Dear Brothers and Sisters,
I recently became aware of the ministry of a Catholic layman named Doug Barry. He has a website named Radix- Battle Ready and a television program on EWTN named Battle Ready. His desire is to equip the Catholic laity to engage in the battles that we experience in our earthly lives.
Battle Ready-Are we?
I was struck by the daily Mass readings at the end of November 2019, the final two weeks of the Church's liturgical year. The first readings from these days were from first and second Maccabees and the book of Daniel. The Maccabean readings chronicle the struggles of God's people when King Antiochus forced a cultural revolution on the Jews that caused each person to choose the Living God or the current King. The readings from the book of Daniel focused on struggle that Daniel and his companions had living a life of faith in a foreign land. Both sets of people struggled with individuals and powers who sought to eradicate their faith. Daniel, his companions and the followers of the Maccabean families proved themselves to be battle ready. They were ready to lay down their lives for their faith.
Here are four points to help us be battle ready.
First, we need to pray.
The Anglican Bishop Walsham How penned the hymn For All the Saints. The second verse goes: Thou wast their Rock, their Fortress and their Might;
Thou, Lord, their Captain in the well fought fight; Thou, in the darkness drear, their one true Light. Alleluia, Alleluia!
These words highlight the fact that we must know Jesus as our Rock, Fortress, Might and Captain in our well fought fight. To know Jesus in this way means that we converse with Him on a daily basis. We are not battle ready unless we meet with the Lord each day.
Secondly, we need to have a heightened sense of discernment.
If we are unclear about good and evil, right and wrong, we will most likely end up excusing sin instead of rooting it out of our lives. Hebrews 6:13-14 reads:
Everyone who lives on milk lacks experience of the word of righteousness, for he is a child. But solid food is for the mature, for those whose faculties are trained by practice to discern good and evil.
We need to learn what real righteousness is and then live accordingly. St. Paul puts it this way:

Do not conform yourself to this age but be transformed by the renewal of your mind, that you may discern what is the will of God, what is good and pleasing and perfect. (Romans 12:2)
If we follow the spirit of our age, we become thermometers. We reflect the temperature of the current culture. If our minds are renewed by Christ, we become thermostats. We give witness to Jesus and raise the spiritual condition of our environment.
Thirdly, we need to be willing to sacrifice:
Bear your share of hardship along with me like a good soldier of Christ Jesus. To satisfy the one who recruited him, a soldier does not become entangled in the business affairs of life. (2 Timothy 2:3-4)
St. Paul is alluding to a variety of hardships. Some of these hardships may include the personally imposed disciplines of almsgiving, prayer and fasting. Other hardships come from outside of ourselves. Standing up for our faith in Jesus Christ may make us unpopular or even persecuted.
Finally, we need to be missionary minded.
Our fight does not consist in simply defending our souls from the evils around us. We share in the mission of Jesus Christ. He came to bring God's reign to earth. By prayer and example, by words of truth and the gifts of the Holy Spirit, we are to make Jesus known in our age. As St. Paul said:
I have become all things to all, to save at least some. All this I do for the sake of the gospel, so that I too may have a share in it. (1 Corinthians 9:22b-23)
Samuel J. Stone penned the words to the song, The Church's one Foundation. This is verse three.

'Mid toil and tribulation, and tumult of her war, She waits the consummation of peace forevermore, Till with the vision glorious her longing eyes are blest, And the great Church victorious shall be the Church at rest.
May our battle ready stance assist us in our earthly struggle that we might join the Church victorious and at rest. In Christ, Fr. Bob Franco
In Christ,
Fr. Bob Franco
Bishop's Delegate to Catholic Renewal Ministries