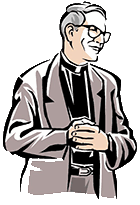 The Flame: January/February 2019
Dear Brothers and Sisters,
Here is a paradox of our time.
The more self-sufficient we are, the more anxious we become.
Our ability to harness the powers of nature has created a world of relative comfort. Most people in the first world do not have to worry about where the next meal is coming from, how they will survive in the cold or heat, or what they would do if they became ill. Yet, in spite of having a relative amount of security, many people are often anxious. Why?
I am sure there are a number of reasons for these anxieties. However, I believe the most fundamental reason is this: We do not know God deeply enough. The second most fundamental reason is that we do not know ourselves well enough.
Jesus commanded us not to worry.
Therefore I tell you, do not worry about your life, what you will eat or drink, or about your body, what you are to wear…Your heavenly Father knows that you need them all. But seek first the Kingdom of God and His righteousness, and all these things will be given you besides. (Matthew 6:31-33 various verses)
Jesus commanded us not to worry because he knows that we are in the hands of the almighty and all-knowing Father. He provides. However, knowing these words of Jesus and living a worry free life can be two different things. So how can we grow in the peace Christ promises his disciples?
First, we need to ask ourselves why we are anxious. Is there an external source of our worry?
There was a time when a town crier would periodically deliver all the news that needed to be proclaimed in the city square. We have gradually progressed to news anytime and anywhere: 24 hour TV news channels, mobile phone alerts and internet websites. News can be both addicting and overwhelming. Some people can become less anxious by curtailing their input of bad news.
Other people have an internal source for their anxiety.
Their parents were worriers. Their home life was filled with chaos and fear. Their personal relationships have been difficult. They have had experiences that were deeply wounding and they fear experiencing that kind of pain again. And perhaps they did experience some kind of deprivation.
What do we do with our internal baggage?
We cannot change our personal histories. However, we can invite the Lord Jesus into our memories. The truth is that he knows our histories better than we do. By prayerfully, inviting Jesus into wounds, He brings us into the loving embrace of our heavenly Father. We can do this in our own personal prayer or with the help of prayer teams. Prayer of this kind brings us healing and helps us know God in a more personal way.
Secondly, we need to know ourselves better.
There are some people who are neurotic burden bearers. They carry concerns only meant for God. This too is a call to prayer. We need to surrender into the hands of our Almighty Father things we have little or no control over. We must always remember: God is God and we are not!
Some people have the opposite problem. They are temporarily care free because they ignore the things they need to be busy about. They presume on God's providence and kindness and do not fulfill their own responsibilities. They procrastinate. This leads to anxiousness when time is running out. The Book of Proverbs calls this person a sluggard and addresses him 14 times. Here is a sampling:
As vinegar to the teeth, and smoke to the eyes, are sluggards to those who send them. The sluggard says, "A lion is outside; I might be slain in the street." (Proverbs 10:26 & 22:13)
Perhaps it was St. Paul who gave the best advice regarding anxiety.
Have no anxiety at all, but in everything, by prayer and petition, with thanksgiving, make your requests known to God. Then the peace of God that surpasses all understanding will guard your hearts and minds in Christ Jesus. (Philippians 4:4-7)
The person, who prays with faith and gratitude, magnifying the Lord and not the problem, leaves his or her anxiety with God.

Finally, be generous.
There is something about giving money and stuff away that makes room in our hearts for the peace and love of the Lord. Jesus said: Give and gifts will be given to you; a good measure, packed together, shaken down, and overflowing, will be poured into your lap. For the measure with which you measure will in return be measured out to you. (Luke 6:38)
As I often say: we do not know what the future holds. However we do know who holds the future. May 2019 be a year filled with God's grace and peace as we surrender to him our anxieties.
In Christ,
Fr. Bob Franco
Bishop's Delegate to Catholic Renewal Ministries