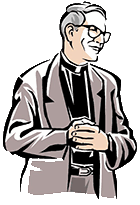 The Flame: January/February 2018
Dear Readers of The Flame,

This is sort of an anniversary for me. This is my 150th letter for The Flame. That number also translates into another anniversary of sorts. Since The Flame is published six times a year, 150 Flames translates to completing 25 years as the Bishop's Delegate to Catholic Renewal Ministries. Tempus fugit! (Translation from Latin: Time flies!). What have I seen in those 25 years?

God is amazing. I have been to many conferences, days of renewal, Life in the Spirit Seminars, charismatic and healing Masses and prayer groups. I have witnessed people being healed and others being converted. I have seen people freed from the power of evil and others healed of internal brokenness. In all of these events, I have been amazed by the way the Lord shows up and shows off! And just when you think you have gotten things figured out, the Lord does something even more amazing.

The Lord is faithful and merciful. I have met many people through my work with the renewal. Most of them have been local. Some of the people I have met have been in other parts of the country and the world. Some of the events CRM has put on have been intercultural events, gathering Hispanic, Filipino, Korean, Vietnamese, Indian and African Catholic charismatics together. Our Pentecost celebration in the Jubilee Year 2000 was an event that was especially memorable. All these people knew the power of the Holy Spirit through the Catholic charismatic renewal.

I have met charismatics of every stripe. I have met charismatics who had doctorates in various branches of science as well as salt of the earth people who keep our society running. I have met teenagers who were transformed by the renewal, elderly who continue to rejoice in the Lord and everyone in between. In the midst of it all, I have seen that the Lord is faithful and merciful to his people. He has broken into our lives and continues to empower us to proclaim Jesus Christ is Lord in the power of the Holy Spirit.


I am a sinner. Through the years the Lord has confirmed the truth of my own brokenness. In spite of my good intentions, I know that I have fallen short of the glory of God (Romans 3:23). I do not fret about this. I am just aware that I need the saving grace and mercy of the Lord on a daily basis. My prayer is: Keep it up Lord! There is more of me to save!!!

I have seen much more in the last 25 years. However, I want to spend a moment reflecting on where we are going.

In the 25 years that I have been the Bishop's delegate to Catholic Renewal Ministries, I have seen the Catholic charismatic renewal shrink. This is not a local phenomenon. In the United States the renewal has gotten smaller and grayer. The same can be said for the Catholic Church in general in our country. However, I have witnessed another phenomenon that is very hopeful.

Many parishes are offering programs like Discovering Christ by Christlife and Alpha. These and similar processes (most of them are really based on The Life in the Spirit Seminar) bring people to a commitment to Jesus Christ as Lord and an experience of the Holy Spirit, including the use of charisms. Many parishes are training people to be part of healing teams. These teams pray with people after their regular Sunday Masses. Other parishes are really seeking to bring people to a sense of intentional discipleship and to discovering their charisms to be used for the good of their parishes and the whole Church.

Ralph Martin has summed up this movement in the Church as going from convention to conviction. For generations the Church simply maintained itself institutionally. People worshipped, celebrated the sacraments and then blended back into a mostly Christian culture. With the onslaught of secularization, people do not follow the conventions of the past. They are either convinced Catholic Christians or they are not Catholic at all.

Moving from convention to conviction is the work of the Holy Spirit. Jesus told us:
And when He (the Advocate) comes he will convict the world in regard to sin and righteousness and condemnation: sin, because they do not believe in me; righteousness, because I am going to the Father and you will no longer see me; condemnation, because the ruler of this world has been condemned. (John 16:8-11)

This convincing power of the Holy Spirit enables us to see who Jesus truly is, how right the ways of God really are and how wrong the ways of the world are!

The Spirit is continuing to speak to the Church the truth of Jesus Christ the Lord. And as we become more convinced, we will walk in the power of the Holy Spirit at ever deepening levels.

As we begin this year 2018, let us pray to live in the power of the Holy Spirit ever more deeply. Set upon the rock - solid faith of the Catholic Church, may our lips and lives fearlessly proclaim that Jesus Christ is Lord!


In Christ,
Fr. Bob Franco


Bishop's Delegate to Catholic Renewal Ministries