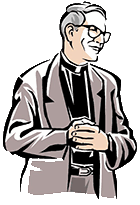 The Flame: January/February 2016
Dear Readers of The Flame,
I have visited a number of prisons and jails in my life. The most unique was in Philippi, Greece. Today it looks like an archeological site, which it is. However, back in the day, it was where Sts. Paul and Silas spent one night. They had recently baptized the business woman Lydia and established the church in Philippi. After being annoyed by the slave girl who had some sort of oracular spirit, Paul commanded the spirit to leave the person. Perhaps this pleased the girl. However, her owners were not happy. They lost a revenue stream.

Paul and Silas were seized and brought before the magistrates of the city. In "kangaroo court" like proceedings, they were beaten and thrown in that jail overnight. Their response to these injustices and indignities was remarkable. Paul and Silas "…were praying and singing hymns to God as the prisoners listened." (Acts 16:25) God worked in a mighty way that night. His first work was in them. They were praising the Lord! The rest of God's work consisted of an earthquake, the conversion of the jailer and his family, and the liberation of Paul and Silas the next day. For the rest of the details, read Acts 16.


Paul and Silas demonstrated what it means to live in the Spirit. They met with adversity with the power and grace that the Holy Spirit brings into the lives of the faithful. How we need to live in the Holy Spirit in the same way in our day!!! Fear seems to dominate our time. There is physical fear due to random acts of violence and planned terrorist attacks. There is also the kind of fear that paralyzes people spiritually. "Political correctness" intimidates people from speaking freely on religious and moral matters. Ironically, secular vacuum that stifles talk of God leads to the nihilistic violence that destabilizes society! When we take God out of the equation, people begin to act like animals. Mental illness increases and people are more easily enticed into cult-like movements that glorify violence, even in the name of God.
"…God did not give us a spirit of cowardice but rather of power and love and self-control."
(II Timothy 1:7)
We need to call upon the Holy Spirit everyday so that we can meet the challenges of our own time with grace. We do not want to live in fear (although prudence for one's physical safety is the normal course of action.) and we certainly do not want to be cowed into silence when it comes to speaking and living the truth. How we need the power, love and self-control that the Spirit brings! It is the only way to meet the climate of our fearfilled times.

As we seek to live out this Year of Mercy, let us live mercy empowered by the Holy Spirit. And if you need encouragement, please join us at one of our upcoming charismatic Masses and events. Also, mark your calendars for the mini-conference by John Kazanjian from Renewal Ministries. He will be leading the conference Unbound: Being Set Free on Friday and Saturday, March 19, 2016. See details in this issue of the Flame. Come Holy Spirit!!!

Sincerely in Christ,

Fr. Bob Franco


Bishop's Delegate to Catholic Renewal Ministries