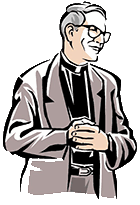 The Flame: January/February 2015
Dear Readers of The Flame,
As Catholic Christians, January 1st is the Eighth Day of the Octave of Christmas. On it we celebrate the Solemnity of the Blessed Virgin Mary, Mother of God. This feast day highlights the reality of Jesus Christ. Jesus is fully and truly human and fully and truly God, born of the Virgin Mary. He is one Person with two natures, human and divine. And so it is right that the mother of Jesus Christ be honored with the title Mother of God, for the One she gave birth to is true God.

However, this feast day is much more than honoring the doctrinal truths about Jesus and Mary. It is a day in which we can welcome Mary as our mother and imitate her as a disciple of Jesus Christ.


Mary was fully surrendered to the will of God. When she said, "May it be done to me according to your word," (Luke 1:38b) Mary became our model for life. True life is about living His way, not our way. It is a life based on His word, not ours.

Much of Mary's life is hidden from view. After the circumstances surrounding the birth of Jesus, we hear nothing of Mary and the Holy Family until Jesus was accidently left behind in the Temple at age 12 (Luke 2:41ff) and then no more until he began his public ministry around the age of 30. (Luke 3:23) We can safely assume that Mary fulfilled her duties as wife and mother with charity and humility. And again, Mary is our model. Most of our lives pass through this world unnoticed except by the One who counts: the Lord!!! May we live our "unnoticed" lives with great faithfulness for Him!!!

Mary is given to us as a woman of prayer and meditation. She wonderfully praised God when she visited Elizabeth (Luke 1:46-56) and meditated on the interventions of God in her life (Luke 2:19, 50).

When Jesus began his public ministry, Mary followed him as his disciple. She followed Him to the Cross (John 19:26-27) and it was there that Jesus gave her to his beloved disciple and to us to be our mother. She shared in the sufferings of her Son only as a mother could. In this again Mary becomes our example. Our love of Jesus should grow to the point of dying to ourselves so that His sacrificial love burns in our hearts.

Finally, Mary was with the early Church, pleading for the coming of the Holy Spirit (Acts 1:14). She celebrated the original Pentecost and continues to plead for us, that we would always live in the power and person of the Holy Spirit.

The Church begins the calendar year with Mary: surrendered to God's will, model of hidden service, woman of praise and contemplation, faithful disciple, Pentecostal intercessor and the gift of Jesus from the cross to become our Mother. As we begin this New Year, let us, like St. John the Evangelist, take Mary into our home. After tidying things up, she will teach us to be faithful, humble disciples of Jesus who do not fear the cross but embrace it. And she will intercede for us that we may live in the power of Pentecost every day.

In Christ,
Fr. Bob Franco
PS: I hope to see you at my parish, St. Peter Parish in North Ridgeville, for the first charismatic Mass of the year on January 16 at 7:00 PM. As usual, prayer for healing and a social will follow Mass.