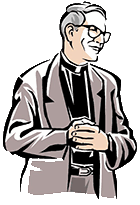 The Flame: January/February 2013
Dear Readers of The Flame,
The older I get the more I appreciate the sacraments, in particular baptism. It is the sacrament that inserts us into the life of Jesus Christ. In baptism we die and rise with Jesus. We receive forgiveness of sins. We are made temples of the Holy Spirit. We become part of a really big family, the Church, spanning the globe, bridging time and eternity.

I believe all these things. However, I also know that I do not always live in the fullness of the sacraments. I desire to grow the fruit of the Holy Spirit. However, the weeds of my sinfulness crop up and stifle the fruit of the Spirit. I earnestly seek to think with the Church. However, my mind is easily distracted by worldly cares.

What's a Christian to do??? Here are two steps to help us bear more fruit for the Lord.

Step one is to make frequent use of the Sacrament of Penance. When we confess our sins, earnestly resolve not to commit them again and receive absolution, we are as clean in the Lord as the day we were baptized! What a wonderful gift! And if one is hesitant about making this step, I encourage you to take advantage of Wednesday, February 20. Every parish in the Diocese of Cleveland will be hearing confessions from 5:00 to 8:00 PM at the same time. What a wonderful thing to do as individuals and as a local Church-to come before the Lord in humility seeking His mercy!

The second step is this: "…deny yourself, take up your cross daily and follow me." (Luke 9:23b) The way to conquer sinful habits is to die. Dead people no longer sin. (see Romans 7:4-6) Baptism is an insertion into the death and resurrection of Jesus so that we might live a new life. However, we need to day by day embrace the cross and die to sin. This is not merely a negative thing. Dead to sin, we present the members of our body to God to become instruments of righteousness. Each aspect of our humanity has been created by the Father, redeemed by Son and is being sanctified by the Holy Spirit. Each part of our person has purpose and a mission. Having died to sin, St. Paul urges us in this manner:


Therefore, sin must not reign over your mortal bodies so that you obey their desires. And do not present your bodies to sin as weapons of wickedness, but present yourselves to God as raised from the dead to life and the parts of your bodies to God as weapons for righteousness. For sin is not to have any power over you, since you are not under the law but under grace. (Romans 6:11-14) Avoiding sin is not our main goal. Our goal is to do the will of God in such a complete manner that we manifest the holiness of Jesus Christ and evangelize the world! Holy Spirit, help us!!!

This year there is a short turn around between the seasons of Christmas and Lent. The Feast of the Baptism of the Lord (January 13) and Ash Wednesday (February 13) are just one month apart. However, the thread that connects them is the living out of our baptism. I pray that we never give up confessing our sins, dying to ourselves and presenting ourselves to God as weapons of righteousness.

Finally, I want to encourage you to participate in A Day of Renewal and Spiritual Freedom on Saturday, February 2 at Sts. Cosmas and Damian Parish. Our main presenter is Fr. Dave Pivonka, TOR, an acclaimed preacher who has ministered at many conferences at Franciscan University of Steubenville and throughout the USA. It is a great privilege to have him ministering our diocese. I believe his ministry will help us truly live in the purpose-filled freedom Christ has gained for us.

Let us live in the graces of our baptism and grow the fruit of the Holy Spirit. It is always in season.
Sincerely in Christ,

Fr. Bob Franco

PS Hold Saturday, April 13th. CRM will host a Day of Renewal entitled, Facets of Faith. This day will be a day of teaching, worship and healing. More info will be in the next edition of The Flame and www.crmweb.org