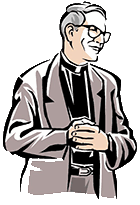 The Flame: January/February 2012
Dear Readers of The Flame,
Fr. Tom Forrest, a Redemptorist priest active in the charismatic renewal for decades, pointed out that 2012 is a Jubilee Year. The only event recorded in Sacred Scripture between the stories of Jesus' infancy and the beginning of his public ministry when he was 30 years old was the finding in the Temple. (Luke 2:41-52) Verse 42 tells us that Jesus was twelve years old. So 2012 would be the 2000th anniversary of this event.

It is a somewhat puzzling event. Mary and Joseph presume that Jesus was within the larger caravan returning to Galilee from the Passover celebration in Jerusalem. Perhaps up until Jesus was eleven, he made the pilgrimage in the "woman and children" group. When he turned twelve, Mary thought he was with Joseph. And Joseph, knowing that Jesus was at the boundary age, presumed that he was still with Mary. One can imagine their conversation that first evening out from Jerusalem when they discovered that Jesus was missing. "But I thought he was with you" and "Well, I thought sure he was with you!" Thus began their search for Jesus among the many pilgrims returning home from Jerusalem.

"After three days they found him in the Temple, sitting among the teachers, listening to them and asking them questions; and all who heard him were amazed at his understanding and his answers." (Luke 2:46-47) Mary and Joseph were not so impressed with Jesus' understanding. They were more concerned about his safety. "Son, why have you treated us so? Behold, your father and I have been looking for you anxiously." (Luke 2:48b)
Jesus gave an answer that was a precursor of things to come: "…Did you not know that I must be in my Father's house?" (Luke 2:49b). Jesus returned with them to Nazareth and was obedient to them.

There is much to ponder on this Fifth Joyful Mystery. Perhaps as we begin this Jubilee Year of sorts (it has not been officially declared so by the Vatican), we can pray that people return to Church (like Mary and Joseph to the Temple) and rediscover the teachings of Jesus. We can also pray for Church leaders and laity alike, that like the teachers in the temple that day, they would again be fascinated by Jesus our Teacher, amazed anew by his words. We can seek to pray and contemplate Christ more deeply, like Mary, who "kept all these things in her heart." (Luke 2:51). Surely if we learned more deeply of Jesus and meditated more profoundly like Mary we would be changed. Like Jesus, we would "increase in wisdom and in stature, and in favor (grace) with God and man" (Luke 2:52).

In an effort to know Jesus better and make him better known, CRM will be trying some new things this year. One knew thing will be a quarterly diocesan prayer meeting. We are encouraging all prayer groups to come together once a quarter simply to pray together. This meeting will move around the diocese. The first one will be on Tuesday, January 24 at St. Hilary's Prayer Group in Fairlawn (Summit County). The prayer meeting will begin at 7:00 PM. One does not have to belong to a prayer meeting to come. Perhaps prayer groups can attend this prayer meeting in place of, or in addition to, their regular meeting. We want to come together as the Temple of the Lord, Jesus' Spirit-filled Body, to praise God and be amazed at his words again.

Also, please note the Growth in the Spirit Seminar on February 3 & 4. More information is inside!

May this Jubilee Year (of sorts) help us to know, love and proclaim the Lord more and more!
Sincerely in Christ,

Fr. Bob Franco